from Journal of History (1910-11) pp. 455-71, 60-70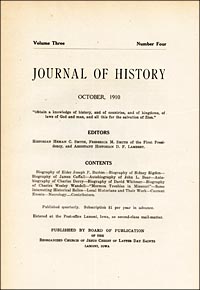 BIOGRAPHY OF
CHARLES WESLEY WANDELL.

BY INEZ SMITH.

Greater love hath no man than this, that a man lay down his life for his friends. -- John 15: 13.

There is a name that deserves to be better known among the children of the Reorganized Church. It is that of Charles Wesley Wandell. He was one of those who gave their lives, far from home and homeland, telling the story of the angel gift to men. With a glad heart he had for the second time crossed the great Pacific -- and this time on no false or mistaken errand. His people were not forsaken, he went to tell to them the glad story of a church reorganized and bid them "take hold anew of the rod of iron." There he died a stranger in a strange land, died amid strange faces and cared for by stranger hands. It was a pitifully small band of Saints who laid him to rest in that alien land, far from the sunny home land, but to-day in that land the few have grown to a host, who are giving loyal and loving allegiance to the cause for which he gave his life; and they have not forgotten him, either. On his grave they have placed a stone, a symbol of the love and gratitude of the Australian Saints for this their pioneer missionary. And that we also may know him better, we write this sketch to perpetuate the memory of a true and brave man.

Charles Wesley Wandell was born upon the 12th day of April, 1819, at Courtland, Westchester County, New York. We can find nothing of his parentage, early life, or education. Whether or not he had an education, his writings in later life show a persistent and systematic study of some sort.

In the official record of the Quorum of Seventy, we find that he was baptized January 5, 1837, by Hugh Herringshaw, at the age of eighteen years, and ordained to the office of elder in the same year, on the 6th day of April, at a conference held


---

[Smith, 1910: p. 456]
in New York City. Elder L. R. Foster officiated in the ordination.

That he immediately became actively engaged in spreading the gospel is not to be doubted, as in 1844, but seven years later, he was appointed minister in charge of the State of New York, by the action of a special conference held at Nauvoo, Illinois. Under him were appointed forty-eight other elders for labor in New York, among whom were A. A. Farnham, Daniel Shearer, Samuel P. Bacon, Joseph B. Noble, Horace S. Eldredge, C. H. Wheelock, D. H. Redfield, and Charles Thompson. [1]

Shortly after the death of the Martyr he returned to Nauvoo and was employed in the office of the historian. It was the work done in this department that disheartened him with conditions there. In his journal [2] a serious charge was made against the reprehensible methods employed in this department after the death of the Prophet. In commenting upon the history of Joseph Smith, as it was being published in the Deseret News about 1855, he says,


I notice the interpolations because having been employed (myself) in the Historian's office at Nauvoo by Doctor Richards, and employed, too, in 1845, in compiling this very autobiography, I know that after oseph's death his memoir was "doctored" to suit the new order of things, and this, too, by the direct order of Brigham Young to Doctor Richards and systematically by Richards. [3]

The state of affairs at Nauvoo in time became unbearable, and he quietly withdrew from the work, disgusted with the new order of things, but still retaining the old faith. Wandell went from Nauvoo to Saint Louis, where he successfully engaged

__________
1 Times and Seasons, vol. 5, p. 504. This Charles B. Thompson was subsequently the leader of a faction which gathered at Preparation, Iowa.

2 The manuscript of this journal was lodged in the Historian's Office, and destroyed with other valuable documents in the Herald Office fire of January 5, 1907.

3 Church History, vol. 4, p. 97.


---

[Smith, 1910: p. 457]
in the local river trade as a steamboat officer. Some few years later he went around Cape Horn to California, and there again met with old-time friends.

In 1846 Samuel Brannon had conducted a colony from New York, setting sail on the good ship Brooklyn and arriving after a long voyage in California where the first "Mormon" colony was founded. Whether or not Charles Wandell was a member of the colony when they started is a matter of conjecture, he rounded the Horn, whether in 1846 or later we are unable to learn; at any rate he became identified with the famous Brannon colony after it was established in California.

About this time (1851) Parley P. Pratt was in California. It was at the time of the great revival and reorganization of the Utah church, and Pratt carried on the good work in California. During this reorganization, it will be remembered that every good Latter Day Saint was expected to be rebaptized. In Pratt's own words, in telling of his success in a letter to Brigham Young, he writes,


We have called together the old members and others, and preached repentance and reformation of life. We have rebaptized many of them, and reorganized the church. [4]

Wandell was rebaptized [5] in San Francisco, July 20, 1851, by F. A. Hammond, and the church was reorganized on the day following. Wandell immediately became an efficient and trusted worker in the new church. August 31, 1851, a meeting was held at the home of Barton Morey. Parley P. Pratt, president, Charles W. Wandell, clerk. At this meeting "James Murdock was set apart by the laying on of hands for a mission to South Australia. Charles W. 'Wandell was then reordained

__________
4 Autobiography of Parley P. Pratt, page 432.

5 We are indebted for this item, as for many that follow, to Elder George S. Lincoln, historian for Northern California, who has lately done some' careful research among the early records of the Brannon colony.


---

[Smith, 1910: p. 458]
to the office of apostle, and member of the Quorum of Seventy, and appointed a mission with Elder Murdock." [6]

We find no record of the date these missionaries sailed from California, but under date of Thursday, October 30, the following item is chronicled in the Church Chronology, published by the Utah church. [7]


October 30. -- John Murdock and Charles W. Wandell arrived in Sydney, as Latter Day Saint missionaries to Australia, and commenced to preach the Gospel.

And under November


The first meeting by Latter Day Saint Elders in New South Wales, [8] Australia, was held by Elders John Murdock and Charles W. Wandell at Sydney.

Wednesday, 3. -- The first baptism by divine authority in New South Wales, Australia, took place in Syndey. [9]

January, Sunday 4. The first branch of the church in New South Wales, Australia, was organized at Sydney, with twelve members. [10]

During this mission Charles W. Wandell was successfully kept in ignorance of the true state of affairs in Utah, as is shown by his vigorous appeals against the "misrepresentation" of opponents. He couched his indignation in the following language in a letter to the Sydney Morning Herald, of May 1, 1852, a quotation from which we reprint from the January, 1910, Gospel Standard.


Elder Wandell writes from No. 66 Pitt, Sydney, and says he wishes to reply to an article previously published in the paper "which is calculated to place the Latter Day Saints in a false light before the people and to bring down a torrent of unmerited persecution upon the Saints in this
__________
6 Manuscript history of Brannon colony, by Elder George S. Lincoln.

7 Church Chronology, by Andrew Jenson, p. 44.

8 This is a mistake, as William Barrett was sent to Australia by George A. Smith, in 1840 (Bancroft's History of Utah, page 410). Also Times and Seasons, vol. 6, page 980, speaks of "a branch in Australia consisting of nine members organized by Elder Andrew Anderson," who must have been in Australia in 1841, judging from the context of this article.

9 Church Chronology by Andrew Jenson, pp. 44 and 45.

10 Bancroft says that there were thirty-six members in this branch. (Page 410, History of Utah.)


---
[Smith, 1910: p. 459]
city.... I consider it my duty to reply to the said article and to briefly lay a few facts before your readers.... The church of Jesus Christ of Latter Day Saints, like all other religious bodies, is regulated and governed by certain clearly expressed and definitely fixed laws, among which we find the following relating to matrimony." (Quotes from Covenants and Commandments, See. 119, the matter on marriage, one wife" etc.; also Book of Mormon, p. 116, Jacob, Chap. 2, See. 6.) Elder Wandell continues: "I might quote several other passages contained in our sacred records, all of which would show that the Latter Day Saints do not tolerate immoralities of any kind, and especially sexual immoralities: and that no person living in adultery or guilty a f fornication or illegal sexual intercourse of any kind can have place among us. The Latter Day Saints have been constantly reproached from the beginning until now with the grossest kind of abominations. Yet these approaches have been uniformly false; and we have suffered without a cause. On behalf of a reviled and persecuted, yet innocent people. C. W. WANDELL.

And he was sincere, too. Little did he think when he framed this manly defense, that he was defending a false faith and a corrupt people. He believed every word that he wrote, and his letters to the Millennial Star during his Australian ministry reveal this fact and also his ignorance of the conditions that obtained in the mountains

In December, 1852, he writes to Elder Richards, and among other things says: [11]


There is here a constant influx of Australio-Californians, who are sure to be more or less prejudiced against us by California newspaper stories; and those who are professors of religion are the ones who take the utmost pains to influence the people against us. During my absence at Melbourne, many base lies were told of the Saints in Zion, and with so much plausibility, that I was obliged to return and refute them.... Shut up as we are in this far-off land, cut off from all hasty communication with our brethren in Europe or America, it seems as though we were left almost to our own resources, to fight our way along as best we could.... We are making up a sum for the House of the Lord, which we expect to remit to you per Captain Staynor, unless the way opens before he sails, to forward it direct to Zion.

Elder Wandell carried on A very successful mission in Australia. He was always ambitious and zealous in the accomplishment of the highest good possible. He found time, too, to

__________
11 Millennial Star, vol. 15, p. 220.


---

[Smith, 1910: p. 460]
write several articles for publication in the Millennial Star. One is an interesting account of gold digging in the Australian colonies. There was much excitement at this time, due to the discovery of gold there, and people flocked from all lands to share these prospects. The picture that Wandell paints of the fate of these gold diggers in their search for wealth is not alluring, and he advises all Saints not to be led away by any exciting stories of the fabulous gold fields there. He closes by contrasting the conditions in Zion, as he dreamed them: [12]


It would be apposite, in this place, to contrast the beauties and glories of Zion.... I recommend you to think for a few moments of any one company of Saints who have left England for Zion. Follow them in your mind across the Atlantic. They have had some little inconveniences to put up with, but they had the satisfaction of knowing that they were in the way of their duty -- they were going to Zion, as the Lord had commanded. On their arrival in Council Bluffs, they take their overland journey, they experience fatigue to be sure, but they are amazingly supported by the consciousness that they are fulfilling the express commands of God -- they are going to Zion. And when they get to the Vallies who is there to meet them? A parcel of voracious hyenas, who stand open mouthed, ready to devour them, as is the case in Australia? No, but the best, the most honorable, virtuous, kind, and hospitable people that live, are there to welcome them to Zion, to the healthiest country that can be found upon the face of the earth. And when they have exchanged greetings of the holiest, as well as the heartiest kind, and begin to look around them for a home they find a country of surpassing loveliness, inviting them to occupy its richest soils, to quaff its health-inspiring fountains, and to breathe its salubrious atmosphere, and not only salubrious, but free! Ah: free did I say? Yes, they are now indeed free! They are no more the slaves to heartless taskmasters in the factories, coalpits, or what not -- no, they are free! O freedom! sacred to the hearts of Israel's noblest sons and fairest daughters, within Zion's consecrated borders. How sweet it is to breath thy balmy air, to tread thy sacred soil, to drink of thy pure streams of living water, to satisfy our hunger with thy choicest dainties, to feel the consciousness that we are no longer the creatures of others, but that we are God's favored freemen.... Excuse these rapturous expressions but what real Saint can think of Zion, and not feel the irresistible impulses of the heart's deepest, holiest longings to be with that people, to whom be is attached by that threefold cord which is not easily broken?

Let us follow these brethren a little further. They are in no danger of settling upon unproductive soils, for the Presidency will freely give them
__________
12 Millennial Star, vol. 15, p. 294.


---
[Smith, 1910: p. 461]
wise counsels, and point them to the best farming localities in the country. And the very day that they settle upon these lands, they are richer by far, than if they were to toil in Australia for a long time.... I want to fit out several missions and then leave this field of labor and return to New York and take my family to Zion.

He had never seen the Zion in the mountains, but in fancy he thought of it constantly, and glory and joy of the dream city filled him with a fierce home longing, and his eyes and heart turned always Zionward. It was with a happy heart and the consciousness of finished work that he set sail upon the 6th day of April, 1853, with a small band of Saints bound for America, on the ship Envelope.

When he arrived is not certain, but he did not go immediately to Salt Lake City. In July, upon the 18th day, 1853, at North Beach, San Francisco, we find he baptized Eliza Evans and Catherine Keney.

Upon the 24th of October, 1854, when the San Francisco Branch was re-organized by Parley P. Pratt, C. W. Wandell's name is recorded as a high priest. November 11, 1855, at a meeting of the branch "brother Wandell being present made some remarks, saying that his business connections with the world had led him to exercise a worldly spirit for the past year or a little over, but his determination then was to renew his covenant, to remove to San Bernardino, and from there to Zion, or wherever he 'might be counseled to go. And as he was a member of this branch of the church he desired a letter of commendation if the branch were so disposed. It was motioned that he... receive letter of commendation." The motion being seconded, it was left for discussion,. and some objections were made to giving Brother Wandell a letter. The objections were first, "that he had not conducted himself according to his own confession in a becoming manner to his profession and standing in the church, and second he had had difficulty in some way with Parley P. Pratt." After considerable discussion, it was considered that nothing of a serious


---

[Smith, 1910: p. 462]
nature could be brought against him by the branch, and he was granted the letter.

Probably at some time in 1857 he started for Salt Lake City, at any rate we find that he was traveling with a small company in that direction. In the biography of Joseph F. Smith, as published in Latter Day Saints Biographical Encyclopedia, we read the following:


With this outfit the two elders [Smith and Partridge] started down the coast to Santa Cruz County, California, where they joined a company of Saints under the captaincy of Charles W. Wandell, with whom they traveled through the country southward as far as the Mojave River, where Joseph F. and others left the company and made a visit to San Bernardino.... Being under no obligations to continue traveling with Charles W. Wandell's company any further, he engaged to drive a team for George Chrisman, etc. [13]

Wandell, with his company, continued on their way to Utah, and passed through the southern part of the State just after the terrible Mountain Meadow massacre had taken place. This was his introduction into the glories of Zion, the glamour of the city he had sung and dreamed of faded, and in its place stood the brutal reality, a city gross and material, a den of vice and crime. In bated breath the people told of the horrors inflicted upon them by their leaders unless they obeyed counsel, and Wandell thus at last was privileged to breathe the "freedom" of which he had written so often. But he was not one to condemn quickly and he went to work quietly, but determinedly to get at the facts of the Mountain Meadow affair. The result of his investigations was the amassing of a volume of evidence, which has probably never been exceeded since. He was convinced that Brigham Young was implicated, and he was in the possession of well-nigh insurmountable evidence against him.

These facts he embodied in a clear and logical "Series of Open Letters to Brigham Young," openly charging him with implication in the crime. He had never

__________
13 Latter Day Saint Biographical Encyclopedia.


---

[Smith, 1910: p. 463]
been able to publish this document, and it was with the rest of his papers turned over to the church after his death, and finally placed with other historical documents in the Historian's Office, where with nearly all of the contents of the Herald Office it was destroyed by fire in 1907. The loss is much to be regretted, as it would have proven interesting and valuable.

He was still in Utah as late as 1862, it is said, but from that time on until the year 1873, history leaves a blank, as far as record goes.

Upon the third day of March, 1873, a. revelation was given to the Church of Jesus Christ of Latter Day Saints (Reorganized) through their president, Joseph Smith, the son of the Prophet, which in part read,


Let my servants E. C. Brand, Charles W. Wandell, and Duncan Campbell be appointed as special witnesses of the seventy in their places; and let my servants Joseph Lakeman, Glaud Rodger, John T. Davies, and John S. Patterson be also appointed as witnesses of the seventy before me.

The only peculiar thing about this was that at the time of this revelation no such name as Charles W. Wandell was on the church records, and the man was unknown to the church in the East. Charles Wesley Wandell was in fact not a member of the church at the time this revelation was given, and he presents the anomaly of being the only man ever called to take a place in the church before he was a member. Upon the day following this revelation in the East, and altogether ignorant of its reception, Wandell became a member of the San Francisco Branch, being received on his original baptism, March 4, 1873.

This peculiar circumstance is one of the wonderful things that has inspired latter day Israel.

He was rebaptized July 6, 1873, to satisfy some objections

__________
14 Doctrine and Covenants 117: 8.


---

[Smith, 1910: p. 464]
made to the original baptism. The rite was performed by Elder Glaud Rodger, and he was confirmed by Elders Glaud Rodger, Hervey Green, and John Roberts. His name was not reported to the church recorder as a member until some three months after he was called.

Alexander H. Smith writes to the Herald, volume 22, page 22, the following:


On my return to San Francisco, having notified Brother Wandell of my instructions, [15] I met him and did, on the 22d day [16] of August, 1873, ordain him to the office of an especial witness in the Quorum of Seventies, in the Church of Jesus Christ of Latter Day Saints. Brother John Roberts, being witness thereto.

Elder Wandell immediately entered the active missionary field and at different times thereafter he wrote letters to the Herald. Below are extracts from some of them showing the extent of his labors. [17]


SACRAMENTO, CALIFORNIA, June 30, 1873.

Dear Brother Joseph: I arrived here from Carson City, on Saturday evening, and spoke twice to the Saints on yesterday. No collections had been made for me previously; but now they have raised about $20 for me.

The Saints in Nevada did nobly, and it appeared to be a pleasure for them to manifest their faith by their works. Brother Johns will send you the account. I like Brother Johns. He is evidently a sincere man. In connection with him, I mention with very great pleasure, Brothers John Hawkins and David R. Jones.... Preached seven discourses, most of which were to the Saints.
__________
15 Moved by Elder E. C. Briggs and George H. Hilliard that Charles W. Wandell be ordained a seventy in the place of Elder William D. Morton. Carried. -- Conference Minutes, Saints' Herald, vol. 20, p. 290.

16 He was also received by vote into the First Quorum of Seventy upon the 12th day of April, 1873. A license was issued to him, September 6, 1873, by J. C. Crabb, president pro tern, and F. Reynolds, secretary, by order of the September conference at Council Bluffs, in 1873, and by order of the First Quorum of Seventy. The date of Wandell's ordination is given on the church record as the 23d of August, 1873, but as both in his letter written to the Herald at the time, and a memorandum made in his private journal, Alexander H. Smith gives the date as the 22d, we think it to be correct.

17 Saints' Herald, vol. 20, 1). 524.


---
[Smith, 1910: p. 465]
There is much less luke-warmness and division among the Saints than I expected to find.... I leave here to-day for Stockton.



SAN JOSE, CALIFORNIA, July 29, 1873.

Brother Joseph: On the 10th instant, Brother John R. Cook and [18] myself commenced a series of discourses in this aristocratic town, which has hitherto been gospel proof. We preached seventeen discourses, and baptized three persons. Others are investigating. We are obliged to give them a breathing spell, but expect to hold meetings here again in about two weeks, unless the way opens for us to proceed on our foreign mission. We have had great freedom of demonstration; and although our congregations have not been large, we have been listened to attentively, and treated with uniform courtesy and respect.... Brother Cook will leave to-day for San Francisco, and I for San Juan, where I am told a number of "Morrisites" are living. That I may be blest in my labors in the gospel is the earnest prayer of yours in the New Covenant.



SAN JUAN, CALIFORNIA, September 16, 1873..

President A. H. Smith: Your postal card reached me Saturday last. You have no doubt received my letter in answer to the only letter received from you since I left San Francisco. That letter was detained at this place while I was away filling preaching engagements. On last Sunday we baptized eight persons, four of whom were heads of families. On yesterday we baptized four; on next Sunday we are to baptize several more. Since your arrival from the East, Brother Cook and I have baptized and confirmed twenty-one persons, nine of whom have been heads of families; and have blessed four children. We feel that the Lord has greatly blessed our labors; for which we feel duly thankful, and give to him the glory. On Sunday next we will probably organize the San Juan Branch....

His labors were reported to the fall conference of the Pacific coast, which convened at G. A. R. Hall, in San Francisco, California, October 5, at 10 a. m.


Dear Brethren: At the special conference, held at San Francisco on the 5th to 7th of July last, the undersigned were appointed to labor in the field, as the way might open and the Spirit direct.

Pursuant to that appointment, we preached our first discourse at the Puebla de San Jose, on the 10th of July. After holding twenty-one meetings and preaching seventeen discourses, we baptized and confirmed three persons. During this time we were the guests of Elder Henry Burgess, where we found a pleasant home and a family of true Latter Day Saints.

From San Jose we went to San Juan (South); and from that time to the present we have labored at three several points, on the San Benito,
__________
18 Saints' Herald, vol. 20, p. 551.


---
[Smith, 1910: p. 466]
in Monterey County. Upon our entrance upon our labors there, the prospect was discouraging; but we persevered in faith, and preached fully thirty discourses; and baptized and confirmed twenty-four persons; blessed eleven children; ordained two priests; one teacher, one deacon, and organized the San Benito Branch of the church.

We feel that the Lord has greatly blessed our labors; and we feel to give him the glory. The prospect is good for still further additions to the church in the vicinity of San Juan.
Respectfully submitted,

C. W. WANDELL.

JOHN R. COOK.

At this same conference a resolution was passed endorsing appointment of the first missionaries of the Reorganized Church to the Australian Mission. It read:

Resolved that we hereby indorse the Australian Mission, together with its appointments, Elder C. W. Wandell and Glaude Rodger, by our faith, prayers, and means.

A reception was given the two missionaries shortly before they sailed, at the home of Elder John Roberts. Wandell tells the story of the voyage in a more interesting manner than it could be told for him. He says in a letter to President Smith, published in

Herald,

volume 21, number 5.

Brother Joseph: On the 6th of November, 1873, Elder Glaud Rodger and myself sailed from San Francisco on a mission to Australasia. Our vessel was the barque Domingo; our business -- to preach the gospel. 'We cast off from the pier at Stuart street wharf at 3 p. m. and at sunset were outside the Golden Gate and upon the bosom of the broad Pacific. After dark, and when the coast became shut out from our view, we still kept watch on deck until the Government light on North Point disappeared below the horizon, when we bid our final good-bye to America, and all that it held dear to us, and went below for the night. On the next morning nothing was to be seen from the deck of our vessel but the vast expanse of troubled water beneath, and the sky above, limited only by an uninterrupted horizon; but the light of blue water showed that we were still "on soundings," and the great number of sea birds reminded us that land was at no great distance.

Brother Rodger was suffering from seasickness; but in a couple of weeks he got his "sea legs" on, and then he was "all right." To explain, I will say, that it is natural for some persons at first going to sea to resist the unceasing motion of the vessel; this produces seasickness. After a while they learn to accommodate themselves to this motion, that is, they walk with limber legs and supple joints, and sit with a limber back bone; this is having their sea legs on.

---

[Smith, 1910: p. 467]

On the second morning the deep ultramarine blue of the water showed that we were "off soundings"; that we were fully upon the bosom of the Great Deep. Here was the time for a multitude of thoughts to come unbidden, compelling us to a rigid examination of ourselves; showing the sacredness of the trust confided to us, of carrying to a remote portion of the earth the pure gospel of the Son of God, and the message of love that we bear to the misled sons and daughters of the covenant. We can only pray for strength and opportunity; for wisdom, integrity and industry in the pursuit of our calling, leaving results in the hands of him who both called us.

On the fifth day out we were called to witness a burial at sea. One of our passengers bad suddenly died. He was taken upon deck, sewed up in canvas, with a part of a pig of lead at his feet; laid upon a plank which projected somewhat over the ship's side; then, after the bell had tolled its funeral notes and the vessel had been hove to, we offered up a solemn prayer, not for the dead but for the living, and the plank was tipped up, and the corpse went with a plunge into the sea. The body would probably descend half a mile during the first twenty-four hours; an eighth of a mile during the next day; and continue decreasing in its rate of descent in inverse ratio to the increasing density of the ocean, until it would finally reach the bottom, there to rest secure from sharks and from decay until, at the command of Him who sitteth upon the throne, the sea shall give up its dead.

As soon as the corpse had disappeared in the water the order was given to "fill away," and soon our ship was coursing her way for Australia. The weather continuing fine, and the wind fair, we made on the average about one hundred and sixty miles per day. We watched the North Star in its continual change of altitude, until in latitude 12 degrees north we lost sight of it altogether. I spent a great deal of time in a critical examination of the Lute of Zion; Fresh Laurels; and Sabbath School (double) Bell, making selections of the choicest gems for use in Australia. It was a pleasant occupation, and I found myself well repaid for my trouble.

On the 19th of November, in Latitude 19 degrees, 25 minutes north, London 135 degrees 50 minutes West, at about 9 o' clock a. m., I saw a novel sight; it was nothing less than a sperm whale in the air! He leaped from the water directly across my line of vision; and, during the five or six seconds he was in the upper elements, he must have gone his entire length (about 60 feet). As he struck the water the ocean all around him was lashed into foam. It was grand! Besides him we had seen a large finback, who crossed our bow at a quarter of a mile distant; and a grayback, who played around the ship for perhaps a quarter of an hour. Besides these, and a sperm whale feeding near the Australian coast, we saw no whales upon our passage. We saw an occasional shoal of porpoises and many flying fish.

We are now (December 26) within the tropics where the sun, nearly vertical at Meridian, has a terrible power. And such magnificent sunrise;

---

[Smith, 1910: p. 468]

and sunsets. Sometimes the heavens all aglow with mimic fire and gold, too bright for the naked eye to gaze at steadfastly (we have a piece of stained window glass which we can use when necessary), while a lower range of clouds, black with moisture, stands in bold, and oftentimes fantastic relief in the foreground. One evening the view was particularly grand. The sun was setting; a dark, ponderous rain cloud, in the western horizon, representing a huge mountain. From the south side of the lofty apex an enormous column of fire shot upward for more than a mile, with its top canted southward by the force of an upper air current. It was a mimic volcano! Upon the side directly toward us, about half way down the mountain, the lava had burst forth and was running down to the sea. Farther up on the northern side, and near the top, two additional streams of lava were coursing their way down, running first northerly, then striking a mimic canyon, their course turned toward us, and down the canyon to the sea. The scene was grand, and as seen through our stained glass the illusion was perfect.

Early on the morning of the 3d of December we crossed the equator in Longitude 145 degrees west from Greenwich. The wind was steady and fresh from the southeast. This was an exciting day. We parted the port after-fore shroud; and also a leak in the ship's bows, which had been growing worse for several days, became so bad that we had to shorten sail to keep the ship from plunging. The captain went below to examine. He found the apron split, and a stream of water coming through. The starboard knighthead was also fractured, and it leaked badly when the ship plunged the hawse pipes under. He stuffed a lot of oakum in the apron, and nailed a piece of board over it to keep it there. This lessened the leak, but the captain and the ship's officers determined that it was unsafe to attempt to conclude the passage in her present condition; so we bore up for Tahiti, one of the Society Islands, a little over one thousand miles distant. * * *

On the 13th of December, we made the island. The formation is volcanic, and the main peak rises nearly 8,000 feet in the air. The island is surrounded by a coral reef, with an occasional opening through which vessels can pass. The ever restless ocean dashes its great waves against this reef with a fearful roar that can be heard five miles off; but the inside channel is as smooth as a mill pond. A miniature steam tug comes outside the reef and takes us in tow, and we head for the-western entrance of Matavia Bay.

The French have erected two bastioned earthworks to protect this entrance, one of which mounts six, and the other ten guns. We afterwards visited the latter, and found the armament to be eight thirty-two pounders, and two ten-inch shell guns. They were very formidable to look at, but when we looked into their muzzles and saw bow rough they were inside, we concluded that the United States military department would condemn all such guns. We dropped our anchor close into the quay at Papeete.

---

[Smith, 1910: p. 469]

Here is the seat of the French Protectorate for this and other of their Polynesian possessions. The American and British governments have each a consul; and Queen Pomare (the native sovereign) here holds her court, and exercises a certain authority, but apparently in harmony with the Protectorate. Papeete is a town of perhaps 2,000 inhabitants. Its mercantile business is mainly in the hands of the Americans. The streets are narrow, and in many places the trees on each side join branches overhead, forming a perfect shade. They are macadamized, and kept surprisingly clean. The French Protestants, and also the English, have well established missions. The Catholics have a cathedral building partly finished; it is built of coral rock, with door and window facings of basalt. The walls of their monastery are also up; the outside walls of the half basement are fully five feet thick; and the little square window holes are protected by iron gratings to keep out intruders! * * *

We remark that the natives are a great, strapping, well-made set of men, and the women are not lacking in good looks or in splendid physical development. Situated in this delightful climate, entirely within the Tropic of Capricorn, clothing ceases to be necessary for either the health or comfort of the body. It is only used for purposes of ornamentation, and out of regard for the conventionalities of civilization. The natives are not clothed -- they are draped. For instance, the men wear a breechcloth, (a cloth about two yards long by one wide) wrapped around the loins. It covers the body from the waist to the knee, and over this they wear a shirt. These, with a hat, constitute the male dress. The breechcloth is a very tasty affair. It is of a very showy pattern, with large white figures on a blue ground, and looks exceedingly well. The natives, high and low, rich and poor, male and female, go barefoot. We saw the Catholic priest parading with his school, and excepting his professional robe, he was barefooted, barelegged, and in his breechcloth! The womens' dress consists of first, the inevitable breechcloth; second, a handsomely made, loose gown fastened at the neck falling well to the feet, and trailing behind, (but it is never allowed to trail in the mud.)

We visited the native houses, and were surprised to find so much cleanliness and neatness displayed, and so little of slovenliness and dirt. They all read and write the Tahitian language; and once in a while we found one who could make himself known in English. We found books in every house; sometimes quite a library. By an examination of their grammar, we find that their language is nearly all vowel, and but few consonant sounds; that is, it is. spoken mainly by the throat, tongue, and teeth; and the lips are seldom used.

Apropos of this, how is it that language adapts itself to the climate in which it originates? In Russia, with the aid of consonants, the people are enabled to speak mainly through the lips and teeth, thus shielding the throat and lungs from direct contact 'with the. frozen air. As we proceed towards the Tropics the consonants disappear; the vowels predominate,

---

[Smith, 1910: p. 470]

and in conversation the organs of articulation are thrown open.

It sounds oddly enough to us to hear whole sentences uttered without a single movement of the lips. Upon the whole, we prefer the English tongue, notwithstanding that odious hissing sound of the aspirates, which so incessantly recurs to mar its euphony. It is said that when Caesar returned from the conquest of Britain, he reported that he had conquered a people who spoke the language of serpents. But we are again digressing!

Here is the home of the bread-fruit tree. We see it all around us; it is the commonest tree in Papeete. It is a good bearer, and grows to be a very large tree. We saw specimens of the fruit on the tree, fully two thirds the size of a person's head. When boiled or fried it tastes like the potato.

Queen Pomare has opened, macadamized, and embowered, a public road which, following the seashore, extends all around the island making a most delightful drive one hundred miles in extent. It is kept in repair by convict labor. We did ourselves the honor of visiting the queen. She received us very kindly; conversed with us in English, through her niece, the heiress apparent to the throne; and when we arose to leave, bade us a friendly adieu. She is now quite old -- perhaps seventy-five years -- but still straight as an arrow, and retaining all her faculties in perfection. * * *

THE LOST FOUND.

On Friday, December 19, as we were straying out of town on the Queen's road, two middle aged men accosted us, and wanted to know if we were missionaries. They could not speak a word of English, and we gave them to understand, as well as we could, that we were missionaries bound for Sydney. They still clung to us, frequently using the name, Parato. The fact is, they were brethren of our faith; mysteriously led to accost us; and were inquiring if we knew Addison Pratt. Their persistency became so marked that we began to suspect them of being police spies, and got away from them as soon as we decently could.

We passed along the open country, and there finding the Queen's road overseer, who spoke good English, we were informed that there was a settlement of Mormons at Siona (pronounced Zeona) five miles west of town. Be could give us no names; he said there were none of our people living in Papeete; that they bad been somewhat persecuted in times past, and for the sake of peace had all settled at Siona (Zion).

Well, well! and so we have found our brethren at last-at the eleventh hour, for the ship is to sail to-morrow afternoon. We prayed for her detention, and she was detained, until the following Thursday (Christmas;).

On Saturday, the 20th, we started before breakfast for Siona. At Fa-a-a we stopped at a house reported to us to be the residence of Mormons. They were very friendly, gave us cocoanut milk to drink, and furnished us a guide to show us the Mormon missionary, (all preachers

---

[Smith, 1910: p. 471]

here are called missionaries.) We found Bro. David Brown, who speaks good sailor English; and through him we soon found the rest of a devoted little branch of the church. We can not find words to convey to you an adequate idea of the joy of these Saints in beholding us; it had been so many years since they had seen a white elder; and our coming was so unexpected. Brother Brown is an East Indian; learned his English on board a whaler; and has been here for about ten years. He is a very influential man in the church in Tahiti, though he holds no presiding authority. After introducing us to the Saints he took us to his own house, which he appropriated to our use, and which remained our headquarters during our stay. All was now excitement in Siona; a meeting was called for 3 p. m.; the traditional yellow-legged chicken was duly prepared for our benefit, and at 1 p. m. we broke bur fast on fried chicken, boiled breadfruit, cocoanut milk, etc.

We were quite surprised at the neatness of everything around us; the floor, and the large mats which covered it, answering the purpose of a carpet; the tablecloth and bed were scrupulously clean, reconciling us at once to the (to us) novel manners and customs of our Polynesian Sionars.

The Saints' meeting house at Siona is a bamboo structure; is well situated; is comfortably seated; is furnished with a bell, a pulpit and a communion table. There is an entrance at each end of the building -- one for the brethren -- the other for the sisters' use.

At 3 o'clock we commenced our meeting. The society has a well-trained choir, with Sister Pipi as leader; Brother Reipu, (Raepoo) her husband leads the bass. When the hymn was given out the congregation arose and heartily joined in with the choir in a well-executed piece of music. The peculiar accentuation of the language gives character and style to the music; and its novel, yet pleasing harmonies corresponded with all our strange surroundings; and excited emotions within us not easy to describe.

After prayer and the singing of the second hymn, we explained to them the history of the church; the death of Joseph the Martyr; the subsequent wickedness and scattering of the people; and finally the Reorganization, with young Joseph at the bead.

One peculiarity we noticed was, that they had brought their Bibles with them, and when we incidentally made reference to the writings of the prophets or apostles, these Bibles were at once opened and the quotations examined.
(To be continued.)

---

[Smith, 1911: p. 57]

BIOGRAPHY OF CHARLES WESLEY WANDELL.

(Continued from volume 3, page 471.)

We showed bow singularly God had ordered events to bring us to Tahiti, and for a purpose, too, which all could see; and advised them to at once recognize the Reorganization, and labor under the leadership of Joseph.

With the instinct of true Latter Day Saints they applied for baptism, etc. Resting satisfied with the assurance of the brethren that we would not be violating any municipal regulation, we appointed the next day, (Sunday,) to attend to ordinances; and at the same time gave notice that we should transact important business connected with the Reorganization.

In the evening all hands and the choir met at our rooms and entertained us with, "The Spirit of God like a fire is burning," and other inspiring songs of Zion, all sung in the Tahitian language. But anxious as they were to give us pleasure, they were still more anxious to hear from us; and so we entertained them with a discourse upon the history of the church; in which we averred that polygamy was a device of the Devil to corrupt the Saints and overcome them.

On the next day the morning service commenced at 8 a. in. At its conclusion we found that nearly the entire branch with certain visiting brethren from the neighboring islands, were intending to be rebaptized.

Knowing that this would create an excitement in the public mind, we again questioned the brethren concerning our right in the premises; and being assured by them that it was "all right," we repaired to the seaside, and there in the pure blue waters of the Pacific, Brother Rodger baptized fifty-one persons.

There were many bystanders present, and a Catholic church stood within the distance of a half mile, while one of its spies was in our midst taking notes of our doings. The baptisms being accomplished, we retired to change, and then to reassemble at the meetinghouse.

At the afternoon meeting we confirmed the newly baptized; after which we organized for business purposes, with Elder C. W. Wandell in the chair, and Elder Reipu, clerk. The following native elders were present:

From Tonboni, Te-a-po and Pe.

From An-a-a, (chain island) Ta-ra, Pa-ra-ta, and Te-na-te.

From sundry places, Ta-ve, Pa-e-a, Ra-i-do-a and Pa-i-ta.

From Tahiti, Ta-ni-e-ra, Re-i-pu and David Brown.

Taniora is the presiding elder at Siona. He is a gentleman of education and refinement, and was formerly connected with the Protestant mission at Papeete. By a regular vote in each case these brethren were reordained elders, and were appointed specific fields of labor, with instructions that they were to do no ordaining except for branch government

---

[Smith, 1911: p. 58]

purposes, until they should hear from Brother Joseph, or until an elder should be sent from America to preside.

That afternoon the Saints appeared in their best. The brethren were dressed in pants, shirt, and coat, scrupulously clean. The sisters modestly and tastefully dressed in the American style; in fact the congregation would anywhere have been considered decidedly respectable. After the meeting the regular old-fashioned hand shaking had to be gone through with. The meeting, however, had been a very long one; and so m2iny confirmations and ordinations, with the instructions, had made me very tired, and I went to our room and lay down for a nap. I had been there but a few minutes when Brother Rodger came and awoke me, telling me that he had been arrested for baptizing without a license.

A Brother Smith, whom we had just baptized, was arrested with Brother Rodger. He had unquestionably been mistaken for me. Brother Rodger returned to the meetinghouse, where the officer was, and I started to follow him, but was prevented by the brethren. Amid the wailings of the sisters and the protests of the brothers, Brethren Rodger and Smith followed the officer about a quarter of a mile to a public house, where it was ascertained that the officer was drunk; that he had no papers; and was acting without authority. Our brethren were then set at liberty, and soon they came returning to giona with songs of rejoicing upon their heads. During the afternoon while I was in the meetinghouse writing out licenses and letters of instruction, this same officer came and made a great bluster as to what he would do the next day; but he said nothing to me, nor interfered with me in any way.

THE FEAST; THE ADIEUS.

In the morning we all met at the meetinghouse, where we well improved the time in instructing the Saints in their duties. At dismissal it was agreed that our adieus could not be delayed longer than to-morrow at noon. The Saints wanted to go in a body to see us on board; but being satisfied that we had in some manner violated an ordinance of the Protectorate, for which action we were liable, we thought it the part of wisdom, if possible, to avoid any further excitement.

The next morning we finished our writing; met with the Saints at the meetinghouse, and then tried to get away; but a feast was preparing, and there was no letting us off before that was over. So at 11 a. m. we sat down to the feast under the grateful shade of a patriarchal breadfruit tree. A raised platform was fixed for Brother Rodger and me, upon which was set for our use boiled breadfruit, raw bananas, coconut milk, fried chicken, scrambled eggs, etc., etc., all of which was laid upon a tablecloth of spotless purity.

Our table was at the head of a large oblong circle, some thirty feet across, covered with taro leaves, (a large, broad leaf,) which gave it the look of green carpeting. Around the edge of this circle the feast was set; the center of the circle being graced by a canoe-shaped wooden vessel, which held a barbecued hog.

However, before we had time to compose ourselves for the work in hand,

---

[Smith, 1911: p. 59]

a difficulty arose in the shape of several dogs, chickens, and a pig, which incontinently broke through this charming circle of hungry Saints, and made a splendid charge on the edibles around them. Then such a time! But in all such contests man will come off victorious; so one brother whipped off his bandanna, festooned it around one of the pig's fore feet, led him outside to a sapling, and there triumphantly tied him! The dogs and chickens were also finally got outside, and a patrol established to keep them there. So order was restored, and then, after lifting the voice in thanksgiving to the great Author of all our mercies, we set to in good earnest to do the amplest justice to what was before us.

Brother Rodger and myself were told that we could help ourselves to such as was set particularly for us, or we could call for anything in the feast. In order to show them that we entered heartily into their arrangements, and felt to be one with them, we immediately called for some pig in the canoe! We were rewarded by a general smile of gratification, and the first cut of the pig.

The feast proceeded. It was wonderfully strange to us; all the circumstances conspired to make it so. We had started in good faith for Australia, and here we were at Siona, in Polynesia! Why should the good bark Dontinga (Sunday) spring a leak in fine weather, and in that particular part of the ocean which necessarily made Tahiti our only available refuge? Was it not one of those special providences which occasionally occur to keep us in remembrance of the unceasing watchcare which Jehovah has for the cause of Zion? And who are those whose fine open countenances show the kindly spirit within? They are Latter Day Saints; not all of them old-timers, for it is probable not more than half a dozen of them ever heard Addison Pratt or any other white elder. They have come into the church through the labors of the native elders, since Brother Pratt was compelled by the French to abandon this mission. The greater part of these Saints have now for the first time heard the voices of elders from America; and how their trusting hearts are drawn to ours! We are to them almost as though we had come from the courts of heaven! Instinctively they love us; and yet after so brief a sojourn, we are about to leave them. Such thoughts as these would come to us; but we were unprepared for that exhibition of intense emotion just now to surprise, charm, and capture us, by the irresistible force of its own impulse!

We wrote you from Tahiti how they, at parting, embraced and kissed us -- how they hung upon our necks and wept like children! There were Brethren Brown, Taneira, Avaepii and Reipu among the rest; and then among the sisters was Sister Pipi, the choir leader. Poor Sister Pipi, should her eyes ever see these lines, (and they will if you print them), we beg her td rest assured that if our kind wishes can do her good, or add to her happiness, she has them without limit.

That we could remain unmoved amid such a scene, was impossible! Indeed, we were quite overcome, and found it necessary to get away as soon as we consistently could. Brother Reipu had been selected to see us

---

[Smith, 1911: p. 60]

safe on board; but he was so overcome by his feelings, that a less sensitive brother had to take his place. One sister followed us for fully a half mile; then, kissing our hands, returned weeping toward Siona.

On our way to Papeete we had time to discuss the situation. We had not yet been arrested, which fact was almost a guarantee that we would not be. If we should, either one or both of us, we would not pay any fine; but rather, go to prison, believing that God intended us to remain at Tahiti far a season; but if we were left free to pursue our voyage, we should take it as a sign that God had ordained that the Reorganization here, should be started without placing itself under any obligations, either directly or indirectly to the papacy.

We passed through Papeete the cynosure of all eyes, for the proceedings of yesterday had been blazed abroad; the gens d'armes stared; but nobody troubled us. We had two hours of time yet before we needed to go on board, and we went to the house of Brother Parato, to rest and refresh ourselves. Here we learned that information had been duly laid against us at the proper tribunal; but upon consultation it was determined not to prosecute. The fact was, they were glad enough to get rid of us without creating any further excitement.

On Christmas Day we hove up our anchor and stood out to sea, all in high spirits at the prospects of soon accomplishing the remainder of our passage. On Thursday, January 8, we crossed the 180th degree of longitude, and instead of calling the next day Friday, the 9th, we ignored it entirely, and called it Saturday, the 10th. Our time thus corrected would correspond with the Sydney time.

On Thursday, January 22, 1874, we entered the harbor of Sydney. I left Brother Rodger on board to take care of the baggage, while I went on shore to secure lodgings. Went to John Benneth. They were very glad tQ see me. Brother Benneth took me to the batters and fitted me out with a new hat, and then took me to Brother Ellis's. Had a good talk there. Sister Ellis had seen us in a dream, and was expecting us. Brother Ellis went with us to Brother Pegg's and from there to Brother Nichols, where I hired a room, and the next day Brother Ellis paid for the drayage of our things to our lodgings. We immediately began visiting the Brighamites and distributing tracts.

On Saturday we went to visit Elder Beauchamp, at his lodgings. He is the Brighamite missionary. We urged the privilege of speaking to his congregation on the next day. He refused, and also challenged us to a discussion, we to select the subjects. We returned home, wrote out and sent him the following:

1st. Was polygamy a tenet of the Church of Jesus Christ of Latter Day Saints at any time during the lifetime of Joseph Smith, the Martyr? 2d. In whom is the right of Presidency of the Church of Jesus Christ of Latter Day Saints, in Joseph Smith or in Brigham Young? Authorities: Bible, Book of Mormon, Doctrine and Covenants, and Times and Seasons; and by courtesy, the Millennial Star; time to be

---

[Smith, 1911: p. 61]

equally divided -- expenses, ditto. After dilly-dallying for two or three days, he sent us word that he declined the discussion as too unequal and one sided!

We continued to occupy the time in visiting and distributing tracts. Brother Rodger visited in the country a few miles and preached. On Sunday evening, February 1, we formally opened the mission by a meeting at our lodgings. Our room was well filled with a select audience. We had a good meeting, and an excellent feeling prevailed. Being now sure that the mission would be successful, we hired the United Temperance Hall for three months, at a rate unexpectedly low. The hall is centrally situated. On Sunday, February 8, we baptized Richard Ellis and Albert Aspinall, and held an afternoon and an evening meeting in our new hall. At both meetings the congregation seemed greatly interested. We have an appointment to baptize on Sunday next, and feel that the mission has made a secure lodgment in Australia.

C. W. WANDELL.

GLAUD RODGER.

On the 20th of November, 1874, Wandell writes from Sydney, devoting most of his letter to Brigham Young, whose nineteenth wife was at that time suing him in the courts. He, however, says that his work in Sydney is

status quo,

and expresses the desire to make the personal acquaintance of Joseph Smith, "upon any field of labor where duty calls and may call." This desire was never gratified. On the July preceding they bad reported that although the work was difficult, it was not altogether discouraging. Wandell said:

In Sydney we are increasing slowly as yet. I baptized two on Tuesday last, and have an appointment to baptize two more on Sunday next.

At this time Brother Wandell was delivering lectures on Spiritualism. The Saints of Sydney had two meetings on Sunday, testimony meetings on Thursday evenings, choir practice on Friday evening, and on Tuesday evening a "scripture meeting," at which the doctrines of the church were considered.

In December we learn through letter to Sister Rodger from her husband that Brother Wandell "was in Sydney quite lame with rheumatism." In his report to the April conference Brother Wandell asks for a release. He says:

---

[Smith, 1911: p. 62]

Dear Brother Joseph: Yours of December 14 came duly to hand per last steamer, also three numbers of Heralds and Hopes. The news from you is encouraging and interesting. I hope that the Utah mission will never be given up so long as polygamy is maintained by an organization. This you may say, shall not be very long; but you must remember that besides the many influences that bind polygamists together, there is an entire generation in Utah, born and brought up under the influence of the many wife system. Polygamists may move away; but as a rule they will not give up their social system.

I send you Brother Rodger's last note to me.... The mission at Sydney is at a standstill. I should be able to bear off this mission to a successful termination, but ill health prevents. I have had a relapse which threatened to close up my labors for this world. My chest and lungs are in a very bad condition, my muscular power is gone, and now my feet and legs are so swollen that locomotion is almost impossible. My cough is dreadful at times, and is worse when I am exercising the lungs in public speaking. I could not finish my sermon on Sunday evening in consequence of paroxysms of coughing, and unless I feel better than I do now I shall not undertake to preach again in Sydney. This being the situation, of course I have to give up all idea of the Tahitian mission.

I feel desirous of doing my duty, and dislike to be released; but you see the circumstances, and should I live to breathe the equable climate of California once more, it might add a space to my life. I have now arrived at a point at which something must be done in my case. Hitherto I have been able to fill the regular preaching appointments and to visit the Saints more or less; but I have a painful realization that I can not do so any more unless a great improvement in my physical condition takes place.

There are lights, however, around this dark picture; I have sought with all my heart to fulfill every duty upon this mission, with an eye single to the glory of God and of the church. I have taught the true doctrines of the Church of Jesus Christ of Latter Day Saints, and have not been slow to expose deceit and imposture. For myself I have no fears of the future, because I know that the great Judge of all the earth will do right; and should I be called upon to rest from my labors, I have conclusive assurance that such rest shall be sweet and undisturbed by malice and persecution, or by other disturbing causes.

The letter from Brother Rodger had been written to Brother Wandell one week before the letter which he sent to the conference, and in it he says:

I am sorry to hear of the state of your health, and I fear that your labors in this life are but short. Your weakness is seemingly increasing. You can have but little comfort, only in the hope of the gospel. I believe you have done your utmost to fill your mission, and the Lord, who rules all things well, will be your helper in the end. We can but pray and hope for the best.

---

[Smith, 1911: p. 63]

The conference took action on the report of Charles W. Wandell; it was moved and carried that

C. W. Wandell and Glaud Rodger were sustained in their mission to Australia, with permission to Brother Wandell to return home if the state of his health demanded it.

But the release came too late. While the conference was considering this motion they little dreamed that for nearly a month Wandell had been "called to rest from his lajbors," and even then was sleeping in an alien land.

It was nearly a month later than this even, before the friends at home heard the sad news of the death of this pioneer missionary. On the 19th of May, 1875, came the letter from Brethren Rodger and Ellis, containing particulars of the last sickness and the death of Brother Wandell.

He remained at the home of Brother Ellis until he could no longer get around about his work, and then he asked Brother Ellis to take him to Saint Vincent's Hospital, where he thought he could be completely cured of what he thought was bronchitis; but upon his arrival he was told that he was suffering from heart disease and that a cure was impossible. "He was happy, and had no fear of death," says Brother Ellis, and although the body of Brother Wandell was failing, his mind was as active as it ever was, and he prepared for death "as one who wraps the drapery of his couch around him and lies down to pleasant dreams." He died upon the 14th day of March, 1875, and was buried in Balmain cemetery.

The following notice appeared in the Sydney papers of the 15th:

The friends of Richard Ellis are invited to attend the funeral of Rev. Charles Wesley Wandell; to move from his residence, Catharine street, Forest Lodge, at half past two p. m. this day, Monday, March 15, for Balmain Cemetery.

The few Saints of that locality met the expense of sickness, death and burial with willing hearts. The testimony of

---

[Smith, 1911: p. 64]

Brother Ellis in his letter (

Saints' Herald,

p. 344, vol. 22) is worth repeating.

Dear brother, I can bear my testimony that Elder Wandell has been a faithful Latter Day Saint and a servant of God while in this far-off land, and has left a name that will never be forgotten by the Saints here.

The ceremony over his last resting place was simple.

Brother Rodger, whom he had left alone to finish the work which he heartily loved, spoke a few words over his grave, and the handful of Saints gathered round the grave sang a few verses of the hymn Wandell, himself, had written, "Weep, weep not for me, Zion."

The last words that Wandell left to us were the closing paragraphs in his journal he wrote,

Know all men that I want all my home books and other church books to be the property of the Australasian Mission of the Church of Jesus Christ of Latter Day Saints. I want all of my clothes, all of them, to be given to the elder whom the church may send out to take my place. The trunk goes with the clothes. I here (March 2) feel it my duty to state that I believe young Joseph Smith to be the true leader and President of the Church of Jesus Christ of Latter Day Saints, as against the claims of Brigham Young to that office; and to be the legal prophet, seer, and revelator thereof. He must increase and Brigham shall decrease.

After my decease, I wish the church to assemble in a conference capacity, take action with reference to me that may be just and proper. I feel more than ever convinced that a splendid work will yet be done here. Also, I here record my unlimited faith in the atonement of Jesus Christ as the world's Savior. It is in view of the completeness of that atonement that I am enabled to think so calmly about it. God and Christ are true and so is a Universal Providence.

After the conference meeting spoken of shall have been held I want this diary to be carefully and properly prepared for post-office and sent direct to Plano to Brother Joseph, to be preserved in the archives of the church. To any of my personal friends in America, who would ask after certain inner emotions, etc., I will say that all is calm and serene. The eternal future is bright, and one night the angels sang a beautiful song. The adversary has not showed himself in any distinctive form, and I am truly and greatly blessed. CHARLES WESLEY WANDELL.

Thus lived and died one of the bravest soldiers in the "Army of the Lord." Joining the church at the age of eighteen, and becoming an elder in the same year, he spent almost a lifetime

---

[Smith, 1911: p. 65]

in the defense of the gospel message. Part of it was given to a mistaken defense, but when he discovered he was in the wrong, Wandell was not slow in renouncing his error, and became just as valiant in attacking the wrong, as he had been in defending what he believed to be right. His life was one of sorrow and sacrifice. He gave his all, simply and uncomplainingly. He spent a lifetime in the service of others, and sealed his testimony with his life, dying a stranger in a strange land.

Surely his life is worth remembrance, and his name is worthy of living in the heart of every true Latter Day Saint. Albert W. Aspinwall wrote of Elder Wandell as follows:

TO THE MEMORY OF C. W. WANDELL.

President, poet, philosopher, friend!
Sweetest of lines in our hymns hast thou penned.
Thousands delighted with musical voice,
Sinners by scores thou hast made to rejoice.
In this foreign land we follow thy bier,
For thy voice alone our spirits could cheer.
Thy calmness and meekness we have in full view;
Thy courage unsurpassed to dare and to do.
Denial of self in the great Master's cause,
Heroic and strict in keeping his laws;
While far from home shall give thee the name
Of Martyr on heaven's fair scroll of fame.
What voices are these that are borne on the breeze,
In that little graveyard, surrounded by trees?
Over thy grave they are singing thy hymn,
"Weep, weep not for me," with eyes that are dim.
The bursting emotion finds vent in the song,
Which, beautiful, plaintive, is wafted along.

---

[Smith, 1911: p. 66]

OPEN LETTER OF CHARLES W. WANDELL TO THE PRESIDENT OF THE UNITED STATES.

[Following the biography of Charles W. Wandell we think it appropriate to insert his "Open letter to the President of the United States." This was written in the early seventies. His contrast between genuine and spurious Mormonism is well stated, and is the relation of one who has experienced both, and is therefore a competent witness. This is therefore not an opinion deduced from evidence only, but is history told by a participant in the scenes related. -- EDITOR.]

AN OPEN LETTER TO THE PRESIDENT OF THE UNITED STATES.

Mr. President:

I feel impressed to conclude this volume, by calling the attention of the Government to a few thoughts upon the Mormon question, which question I regard as of much greater possible consequence to the country than many of our public men seem to think. I shall certainly bring to the discussion of my subject an understanding of its character.

When Joseph Smith commenced preaching his new and

strange religion, it was at once set down by the churches as so altogether fanatical and false, that its spread in a Christian country would be very limited, and that it would soon die away and cease to exist. This expectation has not been realized. On the contrary, Mormonism has steadily fought its way through all opposition; until it numbers many hundred thousands of zealous disciples, and presents to-day an advancing front remarkable for its solidity and firmness. The Mormon problem is yet unsolved. Indeed, as stated in its text-books, it is incapable of such a solution as its adversaries seek. This brings me to the grave and perhaps startling proposition, that original Mormonism has become a permanent institution among men.

This being the case, as I shall proceed to show, it becomes a matter of serious importance to the nation to clearly understand its general character, quite as much as it is to know

---

[Smith, 1911: p. 67]

that of any other large and increasing body of religionists. Mormonism has its primitive and genuine character; and its subsequent and spurious one.

PRIMITIVE MORMONISM.

By this term is to be understood the doctrines of the Church of the Latter Day Saints as found in their text-books, and particularly in the Book of Doctrine and Covenants, which contains their ecclesiastical constitution. This book in defining its ruling priesthood says:

Of the Melchisedec priesthood, three presiding high priests, chosen by the body, appointed and ordained to that office, and upheld by the confidence, faith, and prayers of the church, form a quorum of the presidency of the church. The twelve traveling councilors are called to be the twelve apostles or special witnesses of the name of Christ, in all the world; thus differing from other officers in the church in the duties of their calling. And they form a quorum equal in authority and power to the three presidents, previously mentioned. The seventy are also called to preach the gospel, and to be especial witnesses unto the Gentiles and in all the world. Thus differing from other officers in the church in the duties of their calling: and they form a quorum equal in authority to that of the twelve special witnesses or apostles, just named. And every decision made by either of these quorums, must be by the unanimous voice of the same; that is, every member in each quorum must be agreed to its decisions in order to make their decisions of the same power or validity one with another.... And in case that any decision of these quorums is made in unrighteousness, it may be brought before a general assembly of the several quorums which constitute the spiritual authorities of the church, otherwise there can be no appeal from their decision.

The twelve are a traveling, presiding high council, to officiate in the name of the Lord, under the direction of the presidency of the church, agreeably to the institution of heaven; to build up the church, and regulate all the affairs of the same, in all nations; first unto the Gentiles, and secondly unto the Jews.

The seventy are to act in the name of the Lord, under the direction of the twelve, or the traveling high council, in building up the church and regulating all the affairs of the same, in all nations; first unto the Gentiles, and then to the Jews;-the twelve being sent out holding the keys, to open the door by the proclamation of the gospel of Jesus Christ; and first unto the Gentiles and then to the Jews.

The standing high councils at the stakes of Zion, form a quorum equal in authority, in the affairs of the church, in all their decisions, to the quorum of the presidency, or to the traveling high council.

---

[Smith, 1911: p. 68]

The high council in Zion, forms a quorum equal in authority, in the affairs of the church, in all their decisions, to the councils of the twelve at the stakes of Zion.

It is the duty of the traveling high council to call upon the seventy when they need assistance, to fill the several calls for preaching and administering the gospel, instead of any others.

It is the duty of the twelve in all large branches of the church, to ordain evangelical ministers, as they shall be designated unto them by revelation." -- Doctrine and Covenants, sec. 3, pp. 102-104, Nauvoo edition.

The following is its faith as epitomized by Joseph Smith:

We believe in God, the Eternal Father, and in his Son, Jesus Christ, and in the Holy Ghost.

We believe that men will be punished for their own sins and not for Adam's transgression.

We believe that through the atonement of Christ all mankind may be saved by obedience to the laws and ordinances of the gospel.

We believe that these ordinances are: first, faith in the Lord Jesus Christ; second, repentance; third, baptism by immersion for the remission of sins; fourth, laying on of hands for the gift of the Holy Ghost.

We believe that a man must be called of God by prophecy and by laying on of hands by those who are in authority, to preach the gospel and administer in the ordinances thereof.

We believe in the same organization that existed in the primitive church, viz: apostles, prophets, pastors, teachers, evangelists, etc.

We believe in the gift of tongues, prophecy, revelation, visions, healing, interpretation of tongues, etc.

We believe the Bible to be the word of God, as far as it is translated correctly; we also believe the Book of Mormon to be the word of God.

We believe all that God has revealed, and that he does now reveal, and we believe that he will yet reveal many and important things pertaining to the kingdom of God.

We believe in the literal gathering of Israel and in the restoration of the Ten Tribes. That Zion will be built upon this continent. That Christ will reign personally upon the earth, and that the earth will be renewed and receive its paradisaic glory.

We claim the privilege of worshiping Almighty God according to the dictates of our conscience, and accord to all men the same privilege, let them worship how, where, or what they may.

We believe in being subject to kings, presidents, rulers, and magistrates, in obeying, honoring, and sustaining the law.

We believe in being honest true, chaste, benevolent, virtuous, and in doing good to all men; indeed, we may say that we follow the admonition of Paul, "We believe all things, we hope all things," we have endured many things and hope to be able to endure all things. If there is anything virtuous, lovely, or of good report, or praiseworthy, we seek after these things." -- Times and Seasons, vol. 3, p. 706.

---

[Smith, 1911: p. 69]

Upon ethical questions it affirms:

And again, I say, thou shalt not kill: but he that killeth shall die.

Thou shalt not steal; and he that stealeth and will not repent, shall be cast out.

Thou shalt not lie; he that lieth and will not repent, shall be cast out.

Thou shalt love thy wife with all thy heart, and shall cleave unto her and none else; and he that looketh upon a woman to lust after her, shall deny the faith, and shall not have the Spirit, and if he repents not he shall be cast out.

Thou shalt not commit adultery; and he that committeth adultery and repenteth not, shall be cast out; but he that has committed adultery and repents with all his heart, and forsaketh it, and doeth it no more, thou shalt forgive; but if he doeth it again he shall not be forgiven, but shall be cast out.

Thou shalt not speak evil of thy neighbor, nor do him any harm. -- Doctrine and Covenants, section 13, page 168, Nauvoo Edition.

Of governments and laws in general, it says:

We believe that governments were instituted of God for the benefit of man, and that he holds men accountable for their acts in relation to them, either in making laws or administering them, for the good and safety of society.

We believe that no government can exist, in peace, except such laws are framed and held inviolate as will secure to each individual the free exercise of conscience, the right and control of property and the protection of life.

We believe that all governments necessarily require civil officers and magistrates to enforce the laws of the same, and that such as will administer the law in equity and justice should be sought for and upheld by the voice of the people, (if a republic,) or the will of the sovereign.

We believe that religion is instituted of God, and that men are amenable to him and to hiin only for the exercise of it, unless their religious opinion prompts them to infringe upon the rights and liberties of others; but we do not believe that human law has a right to interfere in prescribing rules of worship to bind the consciences of men, nor dictate forms for public or private devotion; that the civil magistrate should restrain crime, but never control conscience; should punish guilt, but never suppress the freedom of the soul.

We believe that all men are bound to sustain and uphold the respective governments in which they reside, while protected in their inherent inalienable rights by the laws of such governments, and that sedition and rebellion are unbecoming every citizen thus protected, and should be punished accordingly; and that all governments have a right to enact such laws as in their own judgments are best calculated to secure the public interest, at the same time, however, holding sacred the freedom of conscience.

---

[Smith, 1911: p. 70]

We believe that every man should be honored in his station: rulers and magistrates as such being placed for the protection of the innocent and the punishment of the guilty; and that to the laws all men owe respect and deference, as without them peace and harmony would be supplanted by anarchy and terror: human laws being instituted for the express purpose of regulating our interests as individuals and nations, between man and man, and divine laws, given of heaven, prescribing rules on spiritual concerns, for faith and worship, both to be answered by man to his Maker.

We believe that rulers, states and governments have a right, and are bound to enact laws for the protection of all citizens in the free exercise of their religious belief; but we do not believe that they have a right, in justice, to deprive citizens of this privileges or proscribe them in their opinions, so long as a regard and reverence is shown to the laws, and such religious opinions do not justify sedition nor conspiracy.

We believe that the commission of crime should be punished according to the nature of the offense: that murder, treason, robbery, theft and the breach of the general peace, in all respects, should be punished according to their criminality and their tendency to evil among men, by the laws of that government in which the offense is committed; and for the public peace and tranquility, all men should step forward and use their ability in bringing offenders, against good laws, to punishment.

We do not believe it is just to mingle religious influence with civil government, whereby one religious society is fostered and another proscribed in its spiritual privileges, and the individual rights of its members, as citizens, denied.

We believe that all religious societies have a right to deal with their members for disorderly conduct according to the rules and regulations of such societies, provided, that such dealing be for fellowship and good standing; but we do not believe that any religious society has authority over men on the right of property or life, to take from them this world's goods, or put them in jeopardy either of life or limb, neither to inflict any physical punishment upon them, -- they can only excommunicate them from their society and withdraw from their fellowship.

We believe that men should appeal to the civil law for redress of all wrongs and grievances, where personal abuse is inflicted, or the right of property or character infringed, where such laws exist as will protect the same; but we believe that all men are justified in defending themselves, their friends and property, and the government, from the unlawful assaults and encroachments of all persons, in times of exigencies, where immediate appeal can not be made to the laws, and relief afforded. -- Doctrine and Covenants, section 110, page 440, Nauvoo edition.

The foregoing quotations make up the sum of original Mormonism as stated by its founder, and formally indorsed by the priesthood and membership in conference assembled; and show,

---

[Smith, 1911: p. 71]

First, That it is purely an ecclesiastical system;

Second, That its priesthood is so balanced in its quorum organizations, that, in its practical administration, it is theo-democratic.

Third, That its moral code is unexceptionable;

Fourth, Its faith is orthodox in its definition of the Deity;

Fifth, For a church organization, it takes the original Christian church, as described in the New Testament, for its model; that is, with apostles, prophets, pastors, evangelists, and teachers;

Sixth, And, %as the ancient church did, they baptize for the remission of sins, lay on hands for the gift of the Holy Ghost.

It is no marvel, that the doctrines founded upon this basis, and preached with a zeal which knew no obstacles and disregarded persecution, spread with wonderful rapidity during the life of Joseph Smith, gathering its thousands of disciples, fully ninety per cent of whom were from Christian churches.

That among these should be many fanatics, and dishonest persons, is a matter of course; and that these, with many worthy but mistaken members, should follow a leader of extraordinary ability to the desert of Utah, is not to be wondered at. Such things have been done before. But time is the great physician to heal mental excesses, and the offspring of enthusiasts and fanatics are not apt themselves to be fanatics. When Mormonism shall have sloughed off its extreme fanaticism, it will probably settle down into an order of severe pietism.

Now, as to the permanent character of the Church of Latter Day Saints, I will instance the fact, that its first prophet did enough to perpetuate his reputation as a prophet in the minds of its members. Among his many prophecies, I will refer to one of his last. On the 19th of January, 1841, he produced a "revelation" commanding the building of the Temple at Nauvoo. In this the Almighty is made to say:

---

[Smith, 1911: p. 72]

And if my people will hearken unto my voice, and unto the voice of my servants whom I have appointed to lead my people, behold, verily 1 say unto you, they shall not be moved out of their place. But if they will not hearken to my voice, nor unto the voice of these men whom I have appointed, they shall not be blessed, because they pollute mine holy grounds, and mine holy ordinances, and charters, and my holy words, which I give unto them.

And it shall come to pass, that if you build a house unto my name, and do not the things that I say, I will not perform the oath which I make unto you, neither fulfill the promises which ye expect at my hands, saith the Lord; for instead of blessings, ye, by your own works bring cursings, wrath, indignation and judgments upon your own heads, by your follies, and by all your abominations which you practice before me, saith the Lord.-Doctrine and Covenants, p. 400, (306).

This prophecy was delivered at Nauvoo, during a term of profound peace, and with no likelihood of its serious disturbance. Three years after this Joseph was killed; but the work of building the "house of the Lord" went on to partial completion. But it was then most impiously desecrated by the "endowment ordinances" held therein, which included the blasphemy of a dramatic representation of the Deity; the enunciation of treason against the nation, and the practices of polygamy. These were among the deeds and abominations committed in that temple; and swiftly after them came the forced removal of the people "out of their place"; and, as if the Almighty was determined that nothing should be lacking to convince them of his displeasure, the temple itself was completely destroyed.

There are to-day in the United States perhaps fifty thousand persons whose parents were Latter Day Saints, and who are not familiar with any phase of Christianity except Mormonism. To such the above prophecy has all the force and authority of inspiration; and they fully believe, and will teach their children, and they in turn will teach their children to believe the Bible and the Book of Mormon to be equally the word of God.

Then again, in Mormonism, Joseph Smith is the modern Levi, whose posterity are the "legal" heirs to the priesthood; and so long as that posterity remain, there will not be wanting

---

[Smith, 1911: p. 73]

ministers whose business will be to keep up the organization and propagate its doctrines. This idea of legitimacy is a remarkable feature of Mormonism, and fixes its indefinite duration quite as -much as any other thing. It is the idea of "legality" that has made the Church of Rome what she is, and renders it as certain as the future can be, that the promised successors of Saint Peter will continue to the end of time.

Mormonism claims that the Church of Rome lost the priesthood by transgression, but that it was restored to Joseph Smith by Peter, James and John, who appeared to him and Oliver Cowdery as ministering angels, and ordained them to be apostles. This event is thus referred to in the Book of Covenants, page 271, (113) Nauvoo edition:

And also with Peter, and James, and John, whom I have sent unto you, by whom I have ordained you and confirmed you to be apostles and especial witnesses of my name, and bear the keys of your ministry.

To the Mormon mind, this fixes the apostolic succession with absolute certainty; and has furnished a weapon of no mean power to the elders upon missions, in their controversies with people or clergy.

To this idea of legitimacy must be added the doctrine of the "gathering," through which the disciples from all the world, are gathered to the same section of country, where they can be taught the faith in large congregations, and be under the ministrations of the chief priests and where their children be thoroughly instructed in its principles. This gathering involves the labor of forming settlements, the investment of property; the development of material interests generally; and the interlacing of those interests by marriage and otherwise. By these means the society of the Latter Day Saints becomes cemented together; and where a common faith and a sameness of interest unite to perpetuate a religious system, who will say that it is ephemeral, and will soon pass away?

---

[Smith, 1911: p. 74]

SPURIOUS MORMONISM.

By this term is understood those doctrines claimed to be a part of Mormonism, yet are not found in the Book of Doctrine and Covenants, and have not been submitted to the church for adoption. These are:

First, A Theocracy, based upon a pure Theogamy: that is a government of God; and that man is God. This is commonly known in Utah as, "The One Man Power."

Second, The nullity of all Gentile "covenants, contracts, bonds, obligations, vows, performances, connections, associations or expectations."

Third, Blood Atonement, which includes the death penalty for apostasy; and,

Fourth, Polygamy.

These monstrous doctrines are all included in a mock revelation of Brigham Young's, ascribed to Joseph Smith; but which has never been traced back to him; and, indeed, can not be by any rule of evidence admissible in a court of law or equity.

In so far as polygamy is concerned, its first connection with the Mormons is traceable to Udney R. Jacobs' pamphlet and no further. This man, an elder in the church, in 1843, at Nauvoo, published a pamphlet, in which he discoursed of the polygamy of the ancient patriarchs and kings of Judea, and defended the practice on both scriptural and physiological grounds. Joseph Smith before the congregation and 'elsewhere, emphatically and unmistakably condemned this pamphlet and its doctrines; as he did also the libertinism of John C. Bennett and others, who were subsequently excommunicated from the church on that account.

In 1846-47 Brigham Young led a large body of the Mormons to Salt Lake, and established his church upon this spurious

---

[Smith, 1911: p. 75]

Mormonism; and as there is but a step between the church and the state, it is no marvel that in his isolated position the state should disappear in the church. This was precisely the result of his experiment in government; and was and is the cause of the difficulties which have existed between "Deseret" and the United States. And I will here predict, that so long as this condition of things remain, the Territorial Government of Utah will be a practical nullity in so far as the Mormons are concerned.

The Government should understand that to-day, while his excellency George L. Woods is the legally appointed governor of Utah, Brigham Young is equally the elected governor of Deseret, with a legislative body which formally and solemnly enacts laws for the State; and has also a judicial system practically independent of the territorial courts. It is true, that the laws passed by the legislature of Deseret, are mainly identical with those passed by the territorial legislature, which may well be, when the same members which compose the Council and House of the one, compose the Senate and House of the other, and were duly voted for by separate ballots at the same general election. I know as well as it is possible to know, that the disciples of Brigham Young, in Utah, care nothing for the Territorial Government. They submit to it passively, because they must; and if they do not openly seek to repudiate it, it is because of the impolicy of such a course.

Upon the first settlement of the Salt Lake country, it was beyond successful contradiction, the purpose of Brigham Young to establish an independent government; which idea has never been abandoned, even though it should take another exodus to accomplish it; and he is sustained in this by polygamists, and blood-atonement assassins, who for manifest reasons prefer his government to that of the United States.

---

[Smith, 1911: p. 76]

The fact is, that they have become so deeply compromised in this spurious Mormonism, that they can not well repudiate it, and can see neither certain peace nor safety outside of its pale.

It is idle for the Government to seek to compromise with them short of giving them an absolute independence. Even a state government would not satisfy them; though they would be glad enough to get that for the time being. They are bound to the "kingdom" with bands which they can not sever. The despotic rule of Brigham with its blood-atonement suits them, because it protects their polygamy and other offenses. With these parties, it is less a conscientious conviction of the importance or truth of polygamy and blood-atonement as mysteries of Christ, or parts of his gospel, than the fear or the consequences of their great criminality, which binds them so closely together, and holds them with such tenacity; and their plea of the rights of conscience in this matter has not the force it would have in an honest faith in something better.

There is, however, a large body of Mormons in Utah who have lost confidence in their leaders; and that number is increasing. Some have openly repudiated him; others, secretly many of these latter even continue to pay tithes to avoid collision with this power once so terrible, and still so strong in the completeness of its organization and fearful earnestness. These persons are, and desire to be, good citizens. They are noted for their industry and economy, and their peaceable disposition. Should Brigham Young ever deem it advisable to make another great removal these persons will not follow him. In fact, were he to order an exodus the present year, in my opinion, not one half of what are now considered good church members would consent to leave Utah. He would take with him only that class which the United States could very well spare.

---

[Smith, 1911: p. 77]

In conclusion, permit me to say that the Mormonism of Joseph Smith was that of the Book of Doctrine and Covenants, while the religion of Brigham Young is that of his "revelation" on polygamy:

That the religious system of Joseph Smith was substantially a democracy; that of Brigham Young a theocracy;

That the monogamic Mormonism of Joseph Smith is loyal to the Government of the United States, but that the polygamic system of Brigham Young is not.

That monogamic Mormonism has become a fixed institution in the United States, and so has the polygamous system of Utah, if the Government permit.

That polygamy, if let alone, increases in the number of its votaries, principally because Brigham Young has made it a

__________

'Mr. Stenhouse, in his very able work, "The Rocky Mountain Saints," on page 185, appears to have arrived at the conclusion that Joseph Smith was either a polygamist or a "free-lover," and that the evidence to prove that conclusion was "overwhelming." Certainly Mr. Stenhouse (who never knew Joseph Smith personally) has suffered himself to be imposed upon by the perjured statements of John C. Bennett and others, who had been cut off, by Joseph, from the church for their "free-love" teachings and practices. And as for the statement of Brigham's to a certain "brother," (page 186) "years after," on the "banks of the Missouri," that his wife belonged to Joseph, and that he, (Brigham,) as Joseph's proxy must take her! is exactly like Brigham Young. -- And further, I venture to say, that there is not a truthful woman in Utah that will solemnly affirm that she was Joseph's wife during his lifetime. There are many who have been sealed to him for eternity by Brigham since his death.

Now, I knew Joseph Smith personally, in Nauvoo. I knew him both in private and in public, and his confidence in me was such, that in the spring of 1844, he appointed me president over all the branches of the church in the State of New York, the most important mission of that year. And I here affirm that he never taught me the doctrine of polygamy. Neither did I ever hear him mention it, nor Bennett's "free-love" system, except in condemnation of the same. And if the duty was laid upon me to prove before a legal tribunal, by good and reliable witnesses, that he was either a polygamist or "free-lover," I could not do it with any testimony with which I am acquainted. It was Joseph Smith's fate in this life, to be a target for unnumbered calumnies.

---

[Smith, 1911: p. 78]

matter of faith; that the young Mormon men are not generally averse to it; and the opposition of the young women is practically weak and ineffective.

That polygamy is actually on the increase in Utah; and the time has manifestly come when the Government should adopt some definite policy with regard to it. What that policy ought to-be I will not presume to suggest, except that when the State of Deseret shall have been admitted into the Union, not Polygamy only, but the complete theocracy of Brigham Young will become fixtures in the United States.

I am, Mr. President,

Your fellow-citizen and midst obedient servant,

C. W. WANDELL.