Frank Leslie's
SU N D A Y MA G A Z I N E.
---------------------------------------------------------------------------------------------------------------
Volume VII. New York, April, 1880. No. 4. ---------------------------------------------------------------------------------------------------------------




[ 406 ]



A CITY OF SAINTS.

By The Rev. W. Fleming Stevenson.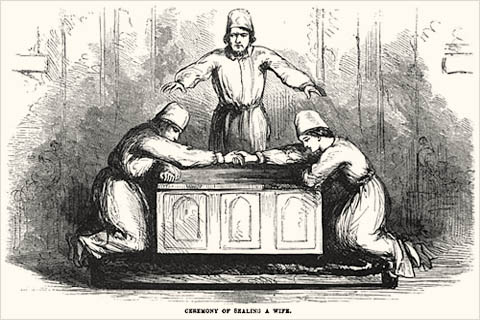 I. -- From Without.
______


We had been flying swiftly down the steep declines, sweeping in long and seemingly endless curves as the course of the valley led us. The rocks on the right hand rose in height, and were curiously brilliant in color, mostly red, with here and there a patch of light gray fixed into it. They had been hollowed and carved by millenniums of rains into caves and needles and endless grotesque forms -- witches, soldiers, sentinels, statesmen, castles, chasms spanned by bridges, and whatever fancy might suggest. And after Echo Canon there was Weber Canon, with rocky sides, double as high; and the Weber brawling beside the railway, which every moment made sharp turns and leaps so as to get out of the gloomy gorge. The shadows of the bare cliffs, a thousand feet high, rested on the track; there was no house nor hut nor sign of human dwelling; between the spurs of red rock narrow belts of vivid verdure wound in among other rocks wilder and more lonely; one moment the pools of dark water lay in their clear beauty and scarcely stirred by the rattle of the train, the next the river swept its foam and spray up to the very wheels; and as we came out toward the open, the dwarf maple shone in dazzling patches on the mountain-sides like gigantic beds of scarlet geranium. The few distinctive sights flew quickly past us: a cluster of beehive huts that showed the Chinaman working on the roads; a garden cultivated by patient Chinese hands; two even walls of rock, about five yards apart and fifteen to fifty feet in height, running for eight hundred feet right up the steep rocky wall; and the ancient weather-beaten pine-stump with the label nailed against its trunk, "A thousand miles from Omaha."

"There! that is Pulpit Bock," my neighbor said, pointing to a huge overhanging mass with a flat top.

"Where Brigham Young preached to his people, and told them that if they went back they must die of hunger, but that forward was the way to the Promised Land?"

"The same; though there is not a word of truth in the story; but there is one of the posts his men held afterward when Buchanan's army marched against



---



A City of Saints. 407


him. Young never did anything shrewder. They had more produce in Deseret than they knew how to dispose of; and the soldiers bought it and got too fat to fight."

We were approaching Salt Lake, and every one had something to tell of its peculiar people. The train ran out of the rocks and by a farm of well-tilled fields, wheat and corn and potatoes in abundance, few weeds, and general tidiness. The valley sloped down before us, with large and pleasant-looking farmhouses dotting the lands. Ground cultivated and settled, people with a comfortable look, well-fed horses, reaping and mowing machines, orchards, irrigation, and an air of general prosperity are the first impressions left by these outlying Mormon settlements. At Ogden we turned off to the left for a run of forty miles by the side of the Great Salt Lake. Soft, rich colors lay upon the fields; prosperous-looking gentlemen, wearing broad-brimmed hats, entered the cars. There was no haste. As we started from the station, a man was seen slowly running across the fields.

"Hallo!" he cried, and we stopped. Presently he panted up the steps.

"You left home five minutes too late," was the only remark of the station-master as the train once more set forward. We rustled softly past neat white palings, bowery trees, and houses dimly seen in charming inclosures; we entered a station filled with the cries of rival touters; then drove through lighted streets and past brilliant shops, and got out at a large and well-appointed hotel.

A walk through the town did not lessen the impression. The streets were broad, well shaded with rows of locust, maple and box-elder, and provided with streams of running water. The houses were pleasantly placed in gardens brilliant with flowers, and among trees bearing rich fruit; there were one or two blocks as imposing as in the great cities of the West, and some charming private residences; there were restaurants and billiard-rooms, and the fashions as in Paris; there was a Stock Exchange, wonderfully ornamented; there were even the street-men of the great cities, and one beside a flaring gas-jet was selling shocks of a galvanic battery to a staring crowd. Joslyn the jeweler's might be in Broadway; but the legends of the jewels were legends of the West. He showed us a diamond that had been presented to Queen Isabella of Spain, and after various vicissitudes had been used as part of the purchase of a well-known mine; had the owner of the mine known, he would have found that he was paying $300,000 for a jewel that is not worth more than 810,000. There were huge co-operative stores, where everything may be bought from groceries to bonnets, and from many-buttoned gloves to rakes and spades; yet business was grave and leisurely; there were few men employed to sell, and there was an absence of urgency. There was a peculiar tone. I bought a trifle in a shop.

"Well, stranger," the proprietor said, "we are herein the wilderness, let us meet at last in the city above!"

We went into an art gallery to look at the photographs. "The Amelia House," I said, pointing to a picture of the stately building erected by the President for his favorite wife.

"The world calls it the Amelia House," the sour and solemn man said, sharply; "but it is not so. It simply belongs to the President; and Amelia, when she was here yesterday, said that it was not hers, and if it was given to her she would not live in it."

The sign of the shops, the all-seeing eye with the Scripture motto below it, was not so common as it had been, but it was still noticeable. It reads awkwardly over the

druggist's: "Holiness to the Lord * * * Licensed to sell spirits and wine."

"Do you consider that promotes holiness to the Lord? I asked of an elder.

"Well," he replied, "when we had all in our own hands we only allowed liquors to be sold as a drug."

The clerk of the hotel was from Berkshire, England. He had made a superb collection of minerals from the wealthy mines in the district. Taking up one, he said, mournfully, "That cost me eighteen hundred dollars. It was the sum I put into the mine, and I believe it is rich enough; but no one has courage to go through with it." The coloring in this specimen was lovely blue and green and purple; and the sparkle of gold and silver was wonderful. He undertook to procure us a coachman who would show us everything, and he was as good as his word. It was a brother Berkshireman, who had driven a hansom in London after he left private service, and had married a Welshwoman who turned Mormon and insisted on going to the land of Canaan; and, as he would "stick to his wife, he came with her. She liked it all but the polygamy, and he liked having one wife as long as he had her."

It cannot be said that the city excels in public buildings. For years one has been rising, and it may rise for indefinite years to come, since, as yet, it makes no show. The site it occupies was the first land set apart in the valley when all was desert and alkali, and when, with the curious and stubborn enthusiasm of the people, the streets and blocks of the city that now is were deliberately marked out. It will be devoted to the more special mysteries of the faith, and if the plans can be trusted, will be imposing in height and costliness, corrupt in architecture. Meanwhile this temple is only a few low walls behind a boarding, and the Tabernacle appears to content the aspirations of the citizens. Huge and ugly, a soup-tureen with the lid for roof, it would probably accommodate five or six thousand people, and mainly on the one floor which slopes pretty stiffly up to the back. Though a gallery runs round most of the oval, the acoustics are so bad that a speaker cannot be heard in more than one-third of the area; but as the plan claimed to be inspired, the President pronounced that there was "no echo in the building, the voice only reverberated." * It was still decorated with festoons of garlands and artificial flowers for the foundation festival of the 24th July, and the doorkeeper mentioned with some pride that the schoolchildren had used about thirty miles of wire. Even the seats for the apostles, bishops and elders were plain though comfortable, but those for the choir were cushioned in green. The front of the long gallery was painted with mottoes, some of which were characteristic enough. There were --

Holiness to The Lord.
If Ye Love Me, Do My Will.
Suffer Little Children to Come unto Me.
Feed My Lambs.
Our Crucified Saviour.
Honor Thy Father and Mother.
Glory to God In The Highest.

But there were also --

We Thank Thee, O God, for a Prophet.
Heirs of the Priesthood.
Keep your Armor Bright.
Our Living Oracles.
Brigham, Our Leader and Friend.
The Pioneers Of 1847.
The Kingdom of God or Nothing.
Zion is Growing.
Utah's Best Crop is Children.
We entered by the door for the Gentiles, and tried seat after seat; but finding the acoustics of the hall deplorable,

__________
* The dimensions are two hundred and fifty feet from east to west, one hundred and fifty feet from north to south, and eighty feet from floor to ceiling.



---



408 A City of Saints.


moved down to near the platform, where seats were reserved for strangers, and every courtesy shown. The women and children occupied the seats as they rose toward the back, and the women outnumbered the men. "We don't attend church as well as we should," a saint confessed, "and the men are the more careless." Before us there was a combination of platform and orchestra, as in a concert hall, backed by a fine organ, built in America by an Englishman, we were told, for $20,000. On the left of it rose the choir of women, over a hundred strong; on the right were the basses and tenors, about fifty; the leader, who came from London two or three years ago, conducted admirably beside the organist. "Most of the singers are foreign saints," they said; "the Americans don't sing much." Above the nearest bench to the platform rose, the Communion Table, which was high and long, and covered at each end with electro flagons, electro porringers, and more white jugs for the water (for they use no wine), and in the middle with the plates of bread and electro bread-baskets. Seven men sat behind it, men of from thirty years to sixty-six, "members of the Aaronic priesthood, and present or future bishops." Beyond them rose a high shallow arc, with a few people seated behind it; another beyond that, with a reading-desk in the middle; and higher still, another reading desk in a smaller curve. A Bible was upon one of the desks. To the left of the platform sat four or five rows of old men. Their silver hair and ancient faces had a strange effect in this imposture. Many of them were bishops, but some were there because it was the best hearing-place. No one wore a particular dress, though the prevailing garb among those elders was a white linen overcoat, such as everybody dons in Summer, and some, clad in that garment, took part in the service. A slight figure arose, and a hymn was given out, which the choir, and no one else, sang.

"Your people don't join in the singing."

"No, sir, we would only spoil the choir."

Another figure arose and prayed very inaudibly; he wore a white dust-coat, and what I caught was like a prayer at home.

"Where do they come from?" "Mostly, sir, from England; but those from Scotland have been highly honored of the Lord, and have risen to high places."

"Have you any from Ireland?" "I am not aware that we have, * and we never had a Catholic: they are too like us to join. We have many Scandinavians; probably hundreds there to-day would not understand well, and at half-past four there is a separate Scandinavian service; but the bulk of us come from England and Wales, and some from the Western States."

Another hymn was given out, and during the singing the seven men were busy breaking the bread into fragments, which were then piled up high on flat dishes. The hymn over, there was the prayer of thanksgiving, and the bread was then emptied into the cake-baskets and handed round to all the members present, occupying at least half an hour, but causing no interruption, for a stout, shrewd man with a flowing white beard and mustache (Orson Pratt, the foremost spokesman of the sect, and one of the spies sent to report on Utah), had ascended to the reading-desk, and read his text from Matthew xix. 1-9, especially, he said, verses 5 and 6. He was dressed in plain clothes, had a clear, full voice, spoke with perfect ease and often passion, and used no notes; but a reporter sat at the end of the arc and took all down for future publication -- no slight work'

__________
* This information we only approximate, as the President afterward admitted there were Irish; but it is probable that Irish Roman Catholics were meant, and it is said, apparently on authority, that Celtic Irish women are not to be found in Utah.



---



410 A City of Saints.


as the sermon was nearly an hour and a half long. It was now curiously interrupted. When all, through the vast building, had partaken of the bread, the crumbs were cleared away and laid aside, and the water was brought forward, the flagons were filled and the mugs out of the jugs; and when all was ready a second prayer of thanksgiving was offered, during which the sermon was stopped, as also again when, a few minutes after, the cup was handed to the preacher. The distribution of the water continued to the close, and as some by this time had got thirsty, a too liberal draught of the consecrated element was avoided by the sending round of common water beforehand to slake the thirst of the impatient saints.

The sermon was an outspoken defense, or rather preaching up, of polygamy, with much side reference to the President's divorce suit and to federal law. It was not a preacher with a message for men, but a lawyer speaking to his brief; there was little argument, only clever twisting, suggesting, and professing to answer objections at every point; and we found afterward that the blasphemous rodomontade was considered by the elders "superb and overwhelming."

"Marriage," he said, "is a religious institution as much as the Lord's Supper; it must be legal in the sight of God; its legality before men is little. Being a religious act, the United States, by its Constitution, cannot interfere with it. It can only deal with civil relations. The only legal marriage in God's sight is the Mormons', for the authority to marry has been communicated by Divine revelation to no other. All other marriages are illegal, and the union will not be recognized in heaven. Marriage is perpetual; for heaven as well as earth. And there will be children born there, all free from death. From the beginningless eternity God has been creating worlds; to the endless eternity He will continue creating them. There will be room for all the generations."

The close was an extraordinary rhetorical burst in favor of polygamy, in which the twelve sons of Jacob were declared to be polygamous, and their honor was pointed out in the tribes and in the gates of the New Jerusalem. "Every one of those gates was named after a polygamous child. You come at last to enter heaven. You approach the gate of pearl. You shrink back; you do not want to enter by that gate, that beautiful pearl, for you say it is the gate of a polygamous child. You go all round. Gate after gate, it is the same. You must enter by a polygamous gate if you enter at all. If you hesitate you must choose your company with those that are without -- whoremongers, murderers, idolaters, and whosoever loveth and maketh a lie. That company will suit you; ours will not!" The preacher sat down; and the choir sang a well-concerted anthem, the Aaronic priests rising up with their backs to the audience and their faces choirward; and when the younger Smith came forward and pronounced the benediction, the meeting dispersed.

Not long after, one of the active members of the brotherhood was enlightening me on what he called the misrepresented truths of Mormonism. He was an average type of successful fanatic, enthusiastic enough to say out all he felt, and frank enough to admit what was beyond dispute.

"I was brought up among the Methodists, in ________, in Yorkshire," he said, "and was very poor. We buried three children, and had to lay them in borrowed graves. A neighbor allowed us to use his, for we could not pay for our own. I had been on the Penitent Bench, when I went to hear a Mormon elder. He opened my eyes. I used to read the Bible pretty fairly; but till he spoke I never knew there was such a truth in the Bible as baptism for the remission of sins, though I had often read the verse. I was impressed. I found that I was blind before. I wanted to get to heaven by the surest way, and here was the way of authority. So I believed. That was in 1843. My father became a Mormon also; but my mother would never. The old man got as far as Council Bluffs -- it was in 1856 I came to America -- but his means gave out, and he never got further, and died there. Well, I came on; and now I own a farm and house here, and one hundred and fifty miles south I have bought another farm, and built two houses on a town lot, and paid for them out of my own money, and I have more besides. And in England I would never have been anything but a starving operative (for I am sickly), living from hand to mouth."

"Are your children living?"

"Yes, those we brought; my two sons live at _______, and one of my daughters at _______, and another at ______; and they are all well off, and as good children as a man could have."

"Did you marry more than one wife?"

"Well, my first wife died."

"Did you not marry again?"

"I did, and a most excellent woman; it was she who urged me to take a second wife."

"So you have now two?"

"Yes; the first lives at the farm one hundred and fifty miles away, with her two sons."

"Are many of the saints monogamous?"

"Four to one have only one wife. You see, it is expensive, and every one is not able to afford it; but we all look forward to it."

"And how does it turn out in the family life? Are there no jealousies and strifes?"

"Oh, there is often much disagreement, and much that is unpleasant. But I could take you to a man over there who has three wives living with him, and for unity and beauty and love you could not find any family better. Things get cross in many families where there is only one wife."

"Well, do the women like it?"

"No, sir; you see it goes against their training, and I may say there is something in the grain of a woman that it goes against. But many of them get to see it is a Divine doctrine. And of course it is a cross, a great trial; but you know our life here is in the wilderness, and the cross must be borne, and they come to look at it in that light"

"May I ask if the women who are trained in Mormon doctrines from childhood take kindly to it?"

"No, sir, I can't say they do; but they all submit for the best."

"The sermon to-day was an exceptional one?"

"Yes, it was for the Gentiles; such a sermon is preached seldom."

"Now, from your early training you will know what I mean: is Christ preached on Sunday in the ordinary sermons?"

"There is no need of that, for we are saints, and have left the first principles; and the sermon is mostly on Mormon practice and doctrine."

"But you will remember how the Apostles builded up the saints, and the more they builded the more they presented Christ."

"Now, sir, I'll tell you truly: I know what you mean, and I often wish there was more of Christ in the sermon; if not for us, for our children, who are growing up without knowing much about Him, and who have not the advantage of our early training."

"You speak of early training, and I am sure part of it was reading the Bible. Do you read it much now? I did not hear it read at the Tabernacle."



---



A City of Saints. 411


"I do not read the Bible much ; indeed, I seldom read it at all. All my reading is politics, for there we see the revelation of the things that shall be fulfilled, and the angels are already flying across the world, and their scrolls are unfurled." His eyes kindled and flashed as he spoke. "But it would do me no harm to read the Bible more. I ought to do it"

"Of course you have family prayer?"

"We have, and always, and all we do is in the name of Christ"

"Are you not uneasy about the inroad of Gentiles?"

"No, we welcome them; we know we can do them good."

"But may they not outnumber you and take the State power out of your hands?"

"You speak as if the United States were to go on, as before, always prospering. We don't believe so. Every State will fight against itself except Utah, and it will prosper and prevail, for the Lord is for us, and the Lord is behind Brigham Young. You say he is shrewd. He may be; but the wisdom of the world would soon come to naught. It is God who teaches him."

"You say you believe in present inspiration?"

"Yes, I believe I am as much inspired as the Apostle Paul."

"What does your inspiration accomplish?"

"I am taught always what to do, what step to take, what land to buy -- all about my affairs. I am not inspired to teach doctrines. The Lord has not called me to that work."

"Mormons alone, we were taught to-day, will enter heaven because they have the right doctrine: the sincerity of others will not save them. Now, do you believe that all except your hundred and twenty-five thousand must perish -- your own friends, e.g., who worship God in their own churches?"

"No, sir. One of the most blessed doctrines we have is baptism for the dead for the remission of sins. I can be baptized for the dead. There is one day in the week for baptisms. Some Christians hesitate to be baptized for themselves; but we step in to be baptized for the dead. An aged woman of seventy was baptized lately fifty times at once for fifty of the dead. She had also to be confirmed fifty times -- stepping out of the water and up the steps each time for that purpose, and then plunged back into the water. She was one of Joseph Smith's wives. I have been baptized several times for the dead."

"And can you be baptized for a heathen?"

"For any one; and the baptism is accepted unless they have committed unpardonable sin. I don't agree in all his policy with Horace Greeley; but he was a good man, and I intend to be baptized for him."

"We were told to-day that only Mormon marriages are valid, in heaven. Can anything be done but baptism for the dead?"

"Yes, we can be married for the dead. My mother did not die a Mormon; but I have been baptized for her, and now I shall secure her union with my father. I shall represent him, and my eldest daughter -- it is her place, not the wife's, to take the lead in all things with us -- will represent my mother."

"But suppose at two different places persons should think of the same dead friend and marry her to different persons?"

"That cannot be, for the book is kept here, and all the entries must be made in it, and there can be no mistake."

"And you can thus by proxy procure any heavenly union you choose?"

"Certainly, if the elders approve."

"Your children, of course, are illegitimate in the eye of the law : have you no trouble about property?"

"We manage thus: A saint died lately. He left all to his first wife. She placed the property and herself in the hands of the council of the Church to distribute it as they would advise her."

"Is it true that Brigham Young is sealed to _____, the actress?"

"You are correctly informed; he could not marry her when she was living, as she would not become a Mormon; and she has been sealed to him as his wife in heaven, now that she is dead. They loved one another till the end."

I have given a few fragments of a conversation that was prolonged for hours, excluding whatever was controversial, and such attempt as was made to point out to my companion a better way. His answers fairly represent the hold obtained by Mormonism upon a man who was, at the bottom, good-hearted and intelligent, but dreamy, positive, ignorant. Other conversations and inquiries left the same impression. A vast number of the people evidently believe in it, and many of them with an enthusiasm that is capable of sacrifice and suffering. It professes to be based upon Biblical ideas and to recognize the Bible as God's Word (though the Book of Mormon is supplemental and coequal); its hymn-book contains many of the favorites of all Christians; its Apostles and literature are rich in spurious Biblical phraseology; and it proclaims a spurious Christian communism. It is, therefore, with no great surprise that the traveler finds among the people many who have been connected with Christian Churches, and have had a considerable amount of Christian instruction, but who have a tinge of enthusiasm or have been brought up among the shadows of discontent. There is a certain class of mind and in a certain condition of ignorance that it attracts, and the wide proselytism it carries on through its messengers secures an enormous area over which to find adherents. It is, within narrow limits, a missionary religion. It has not confined its efforts to America, or to Great Britain, but has preachers over Europe, even in Spain and Malta; and it has not confined itself to Christian sects, but sought to propagate its creed among the red Indians, in the West Indies and South Africa, in Ceylon and India, in Chili and China, and even in Polynesia. Yet its main object has been to increase the population of the State, and form a body there strong enough to hold its own; and its efforts among heathen races, and, indeed, the Latin also, have been almost uniformly unsuccessful.

Looked at from outside, there was an industrious and frugal community that had poured into a great State and rescued it from barrenness; a community, moreover, not the best fitted for work of that kind; the system of wards in the city, each with its bishops, teachers, deacons, and wardhouse, the various councils and officers, the machinery for emigration, the laud arrangements and taxation, betrayed a completely organized social life, and there was the absence of many open sins that infest ordinary communities; yet there was a widespread ignorance, and a low, commonplace type of face was predominant, without any of the light and dignity that Christian faith stamps upon such faces elsewhere; a religion full of absurdities and grossness, and a life of immorality sanctioned and built up under the name of religion. It was evident that there must be some strong and peculiar influence to produce such results out of such materials; and the voices both of Saints and Gentiles pointed to the President, Brigham Young.



---



412 A City of Saints.




II. -- From Within.

Close by the Tabernacle in the City of Salt Lake, but farther east, there is a broad street along the higher level of the town, and, unlike the other streets, bounded on one side for a whole block by an unsightly wall. Within that wall there are the various buildings which formed the residences and offices of Brigham Young, the Mormon President The largest is the Beehive, where it was supposed that he was at home; a low-roofed house beside it contained his reception-room for strangers; next to this was the office where all the tithing was executed for the State; and beyond it the Lion House, a smaller dwelling, though large enough to have twenty rooms upon one floor. Large as the area is, there were other parts of this domestic establishment further down the street. It was to the dead wall mentioned that a small party made its way, and found the outside and the approach as shabby as need be, though the reception-room itself was spacious but depressing.

Wretchedly painted portraits of the Apostles hung round, and between them there were various weapons of precision. Some of the President's sons and some members of his Council were with him, their keen and restless glances telling of suspicion and a jealous watch. The conversation was desultory, and after a few questions he fell back upon the safe and uninviting topic of the praises of the Tabernacle. It was scarcely possible for those who had been tormented by the difficulty of catching a word of the service to repress a smile as he said:

"There is no building in the world like it for size and acoustic properties."

Some one asked him how he accounted for the thrift and tidiness that had been imposed on the settlement.

"You must remember," he said, "that this is the best part of the district; if you were to go further south you would not find such good land, and perhaps what you notice would be less striking."

"What was the spring of this laborious industry?"

He merely smiled, and closed his teeth with a snap he had. But he launched out into denunciation of the Eastern papers.

"They must always have something to say against us. Every State in the Union is disorganized by strikes and tramps except Utah; the railway system of the country has fallen into confusion. We are just as we were; but, of course, Salt Lake must be at the bottom of every disturbance. This is the plague-spot, the focus of mischief. It is wonderful how much we can do from Salt Lake. Gentlemen, we are always as quiet as you see us. We have no strikes, and we have no fear of them; we are peaceable, we should be let alone * * * Have we any intention of going elsewhere? Just as much as the Government has of trying to make us. Why should we move? We have won this place from salt and sand, we have built this city; our people have settled the Territory hundreds of miles away; it is our own. And yet we are only pilgrims, and must live as pilgrims do. It is a goodly land, but there is a better."

He dwelt on some of the early hardships, then told a very harsh joke, and laughed with a smile that showed ail his teeth. He had a firm mouth, thin lips that shut like pincers, a heavy sensual underjaw, a habit of grinding his teeth together, a small but unpleasant eye, and a look of great determination. Yet he was not ill-favored, and conveyed a pleasanter impression than his portrait. He had much ease and self-possession of manner (though it was evident that both were acquired), some dignity, and a good presence. He was dressed well and simply, in black with a white vest. There was a feeling of disappointment as we began to realize that this was the master-will and prophet of all the scattered thousands of the saints, the President whose word was law, the Prophet whose judgment was infallible. Yet there was something massive and potential about him as he talked in his settled way of past experiences. Such as he was, he has passed away. A few



---



A City of Saints. 413


months afterward we heard of his death, and the quietness with which his place was filled recalled what we had been told:

"Who will succeed him?"

"The Apostles will see to that The office is not hereditary, but elective; and the Apostles have been chosen by the people."

"And suppose they pitch on one of whom the people disapprove?"

"Then the people will reverse their decision."


---

Among the students for the ministry at Dartmouth College (New Hampshire), about the close of last century, was one Solomon Spaulding. He does not seem to have found himself at home in the Church, and was a poor scholar at the best; so he turned from the ministry to business, in which he proved to have as little success, failed, and withdrew westward to Ohio. The little village where he lived was the centre of a group of Indian remains, some of them of great antiquity; and these seem to have impressed an impressible mind. Supporting himself now by writing, he conceived the idea of a poetical history of the aboriginal inhabitants of America. It was a fantasy floating even then in ill-informed minds, that these people were originally Jews; and seizing upon this starting-point, he spun the thread of his story.

A Jew named Lehi, a citizen of Jerusalem about the time of King Zedekiah, fled from the troubles of his country, taking his four sons with him and his sons' wives, and after many wanderings reached America, under the guidance of Nephi, the youngest. Here they strove with one another, then scattered over the continent, built cities and tilled the land; but in time, by reason of their divisions and wars, they sank into the barbarism of the red Indians, their descendants. To give an air of antiquity to this



---



414 A City of Saints.


story, he hit upon the notion of styling it "A Recovered Manuscript," and setting out that it was a translation from ancient characters. It professed to be a compilation from various books by Nephi, Enos, Jaram, and others who lived at various, times within a period of about a thousand years. Mormon was the compiler, and his son Moroni continued the work, which was written in a language that had long disappeared, and upon thin metal plates. About the year 420 after Christ, Moroni buried these plates in the ground at Cumorah, in the State of New York.

The style adopted was Biblical -- a mixture of the historical and prophetical books of the Old Testament with New Testament phrases, and occasional homely, country speech running through it. The resemblance was in phrase, almost alone; and the repetition of the phraseology is indescribably wearisome, while the blunders in grammar show that the author had been a poor student, and the fiction that he would have been a worse preacher. It was to have been published as a money speculation, and was ready in manuscript by the year 1812, when it was entrusted to a printer, but never saw the light, as Spaulding died, and in 1816 the printer died also. There was, however, in the printer's town of Pittsburg, one Sydney Rigdon, who, like Spaulding, had been an unsuccessful preacher, and afterward a compositor, and a keen religious disputant. He had seen the manuscript, of which he had taken a copy, and twelve years after Spaulding's death he met one Joseph Smith.

Smith was the sharp, cunning son in a family that lived by their wits and had no good reputation. When he was about fourteen a revival of a spurious and excitable kind had swept over the neighborhood like a fire, and seized him in its course. Characteristically he commenced to relate that he had seen more than his comrades, trances and visions innumerable; that God the Father and the Son had appeared to him, that all religions were in error, and that he was commissioned to restore the first principles. Rigdon and Smith now worked together, and revelations were made to both. An angel pointed to the hiding-place of the plates of Mormon; the lost Urim and Thummim set in silver were also revealed, and by these the translation was completed. Poor as the book was, yet as its early history was unknown, and as Joseph Smith was unlettered, its appearance from him excited wonder, and persons of easy credulity took it as a revelation.

And now the fiction grew. Having made of Spaulding's merely literary labor a revelation from heaven, it was easy to add to it in that direction. Separate revelations were provided, according as occasion demanded. A constitution was found for the Church, and when all was ready, the book was given to the world as "The Book of Mormon." It has been since supplemented by other books of equal authority, and the sum of their united teaching is much like this:

"The Bible is not the only revelation; nor is the Bible the only teaching of Divine truth. It was, and is still, communicated by angels, by the voice of God, and by dreams and visions. God has the form and body of a man. There is a hierarchy of gods, who rule over distinct districts of the world. Matter is eternal, and therefore there never was creation. The spirits of men exist, first, in the world of pure spirits; second, on earth, where they are sent to inhabit the bodies of men; and third, in heaven again, from which they may be sent to inhabit other bodies; and as there are countless inhabited worlds, and God can always add to them, this process may go on for ever. There was a grand council of the gods, when it was proposed that these spirits should be begotten. Lucifer opposed it, and fell. The spirits rejoice in these incarnations.

"The fall of man was a necessity. Adam rejoiced in his sin, and so should we. It was not a calamity, but a step in human progress. There is no human ability to keep the commandments of God or to be saved. Christ must save, and Christ alone; but there can be no salvation without actual baptism for the remission of sins. If baptism is according to the Mormon rite, and in the Mormon Church, the person is saved -- and only then. Christ appeared in America and kept the Lord's Supper. It is to be observed weekly, and water may be used if wine is dear.

"The only true Church is that of the Latter-Day Saints. No one belonging to any other Church can be saved. The Church retains the power of working miracles and of authenticating revelations, and is governed by a hierarchy; and it wars against three sins -- smoking, drinking and the use of flesh-meat. It encourages industry, excommunicates the idle, and requires annual tithes, not of the profits, but of the substance. Wherever the Bible and the Book of Mormon conflict, the former is incorrect. * Heaven will be a paradise of sensuous delights, and will commence with a personal reign of Christ."

This Church is ministered to by a dual priesthood, the higher called after Melchizedek, the lower after Aaron; the higher subdivided into Apostles, Seventies, Patriarchs, High Priests and Elders, and the lower including Bishops, Priests and Deacons; but in the government of the Church the arrangement is different, the supreme body being first the Presidency of three (of whom one is President the others Councilors), and then in order, the Twelve Apostles, the High Council of twelve High Priests, the Seven Seventies of Elders, + the High Priests, Elders, Priests, Teachers and Deacons, each body constituting a quorum. The Church is the Dispensation of the fullness of time, and has been preceded by at least nine other Dispensations, among which are those of Adam, Enoch, Noah, Jared's brother, Abraham, Jacob, Moses, Lehi and Christ the last and greatest being that of Joseph Smith. During this Dispensation the gospel will be preached so that men may know to escape from the judgment to come upon the earth. At last the vengeance will burst, and while the wicked are being punished the righteous will "gather together in America, build up the New Jerusalem in Jackson County, Missouri, and other cities, and also many temples to the Lord, and become a holy, prosperous and mighty people."

These are some of the crude, contradictory and blasphemous doctrines for which six members organized a church at Fayette, Seneca County, N. Y., in 1830, thence moving steadily westward, sometimes by choice, mostly by persecution; first to Ohio, then to Missouri, building temples and swelling their numbers, until in 1840 they settled at Nauvoo on the Mississippi, and were strong enough to build a city. Wherever they went they succeeded in inspiring an intense aversion, were tarred and feathered, and their houses wrecked; and the persecution grew so hot that in 1844 Joseph Smith and his brother Hyrum were murdered by an armed mob.

It is at this stage of the history that Brigham Young appears, as humble and uneducated as his neighbors, a painter and glazier who could scarcely read or write, but succeeded by long practice in at last making a respectable signature to the documents furnished by his secretary. He was the President of the Apostles, and, after the murder, became President and Prophet of the body, though he shrewdly shrank from much exercise of the latter office. The rest of the story is familiar: the sacking and burning

----------------------
* A revised Bible has already been attempted, but full of blunders so gross that it Is not generally made known,

+ "Until seven times seventy if the labor in the vineyard requires it."



---



A City of Saints. 415


of Nauvoo in 1846, the search for a new land, and the marvelous march of the emigrants over fifteen hundred miles of almost untrodden desert, an endless train of wagons that halted while the people sowed their seed and reaped their harvest, and then rolled on again until, at last, it reached Salt Lake, and the living stream flowed over a territory of fifty-four millions of acres to reclaim and till that twenty-seventh part which was arable.

Salt Lake City is the product of Salt Lake religion. It is that religion that planted and planned it Other cities have grown up by necessities of colonization or trade; but in this a religious idea is dominant, and has stamped itself upon every street. There has been nothing to hinder it as there would in an older country, or one within easier reach of civilization; no unwilling paring down, no adaptation or patchwork into which men may be driven by the bulk of their neighbors, and the necessity of conforming to the customs and laws of the country. In this region men were practically a law to themselves, and the project had room and freedom to assume whatever shape might be thought the best. The people themselves press this fact with urgency, and claim that the city and the valley, the order, design, industry and plenty, are a proof that their pretensions are true. Here then was a religious belief which might be judged under conditions that it itself had chosen, and that has had the opportunity to develop itself with as little restraint from human opinion as if it were in another planet.

The more it was examined the uglier it grew. It was based upon an imposture, though the original impostor may have at last come to believe in his own fraud. It was so devised as to enrich the leaders at the expense of the led. Advances were made to the emigrants, to be repaid in a fashion which made them helpless prisoners in the Territory. The order that impressed the visitor was maintained by a terrible espionage and the will of a despot. The outward decency was the decency of a whited sepulchre which had within it all uncleanness. The hopes of heaven were the hopes of the harem. The women were sad, perhaps, more than sad, for the better class of them submitted to polygamy with a broken heart, but as a sacrifice demanded by their religion; yet the language used by them even in public places was often intolerably foul. Crime had stained these saints; there were murderers plainly pointed at, and the murders, done in the name of religion, had been fierce and brutal. It was not so much that there were immoralities, as that the whole society was immoral. A resident, whose duty kept him in the city, said to me once, "I cannot account for it, but the feeling will sometimes come over me that I ought to leave my post and flee, for that sudden destruction will surely overwhelm the valley." He was not a superstitious man; he was a shrewd, hard man, in an office of great responsibility; his own brother was one of the people. He believed in the sure operation of Christian schools and Christian teaching; but his experience of the wanton and gross sin of the place was so deep that it seemed to him as if the long-suffering of God must come to an end. The industry and thrift and well-to-do character of the population were exaggerated. Many of those who worked hard were hopelessly poor and disappointed, but unable to leave. The cultivated soil was fertile, and needed little labor -- needed little, indeed, but irrigation to make it produce plentifully; and other emigrants would have made more of it under the same conditions. Through all the apparent comfort and order it was impossible not to see that superstition, ignorance and lust were the marks which this religion had stamped upon a vast number of the people ; and, thinking of the fair show and the corruption within, it was impossible not to recall the earlier story of the City of Sodom.

This story came irresistibly to my mind as I looked at Salt Lake City in the clear light of a peaceful Sabbath morning. During these twenty years, it has been often predicted that Mormonism must break up; it would dissolve when the Gentiles came, when the railway was made, when Brigham Young died; it would go to pieces by internal dissension. The end is not yet, and it seems no nearer falling to pieces than it was. The railway crept into the desert, but the Mormons boldly contracted for part of the Union Pacific, and made and control other lines through their own Territory. The Gentile settlers have increased till they are one-fifth of the population of the city, but the imposture is still compact. Dissent has been powerful even in names, for the sons of Joseph Smith and some of the President's friends have denounced the present system, some protesting against polygamy, others against tyranny, others against Young. Almost the wealthiest men in the State are Mormons who have thus protested and been excommunicated, some of them setting up a Mormonism of their own, and others joining some one of the orthodox Churches. But though there is a wide dissatisfaction, and though the younger people are inclined to revolt against polygamy, there is no appearance of internal dissension breaking up the system. Christian churches have been introduced, so that there are now four or five Protestant denominations in the city, and they are represented by men of great energy and zeal. They have built houses of worship that are well filled, one of them accommodating a thousand persons; and though primarily for the non-Mormon population, they have each a distinctly missionary character, and they work largely by schools; yet in spite of the accession of many Mormons, they have made little impression on the body of the people. Brigham Young has died, and as yet it has produced no effect. He was working out a system which he found already made, and it was not broken by the shock. There are still alive old leaders of the sect, and abler men than he, whose devotion is beyond question; and younger men are associated with them. It is forgotten that the religion is eagerly and systematically taught to the young. There is a Catechism for Children that has had a circulation of ten thousand copies each edition. It teaches the Being and Unity of God, His attributes, and the Trinity of Persons, His works of creation and providence, the Fall and consequent inability of man, Redemption solely through the atonement of Christ, Faith as necessary to salvation, Bepentance almost in the definition of the Westminster divines, and the binding obligation of the moral law; and it mixes up with these, questions on the Books of Mormon, revelations to Joseph Smith and Oliver Cowdery, the human form of God, legends of the fallen angels, the necessity of Adam's sin, peculiar notions on baptism, the continuance of the extraordinary gifts of the Holy Spirit, the keeping of the Lord's Supper by Christ not only at Jerusalem but with the Nephites in America; abstinence from strong drink and tobacco, from hot drinks, and in Summer from flesh-meat; the Mormon doctrine of the Church, and all the events in their history.

Mormonism has hard and strong roots, and may perish slowly if it is not judged swiftly; but if the scandal of it is to be checked, it will be by stopping the emigration. Three-fourths of the population are drawn from Europe. America furnishes the leaders, but not the rank and file. The poor in the United States are not uneducated, and the material temptations do not appeal to men who know they can have land elsewhere on less onerous conditions. Although the climate of Utah is almost the best in the States, it can boast the highest rate of mortality among its children. Left to itself, Mormonism would soon die; and the



---



416 A City of Saints.


burden lies on us at home of drying up the streams of religions ignorance that feed it It draws its people from our very doors, from Sunday-schools and churches, and thus it leaves even a deeper lesson than the duty of suppressing it: thut men cannot tell where they may drift or in what they may believe if the grace of God be withheld; and that sin has been and is the great cheat and imposture, deluding men, now under one disguise, now under another, and even assuming the form of an angel of light; and that there is no safety from it but in humbly seeking and finding the mercy of God.