[ 115 ]





CHAPTER 6.

Book of Mormon -- Harris'Visit to New York -- Anthon Wrong -- Bays Writes to Linguists -- Angell's Letter -- Davis' Letter -- Moldenke's Letter -- Anthon's Letter -- Testimony Compared -- Archaeology -- MoldeDke's Embarrassment -- Records -- Materials Written on -- Anthon's Theory -- Testimony of Witnesses.


The twenty-fourth, twenty-fifth, twenty-sixth, twenty-seventh, and twenty-eighth chapters of Elder Bays' book we prefer to examine collectively, as they practically relate to the same subject, partaking of the nature of negative argument, and evidence in rebuttal against the claims made for the Book of Mormon. Elder Bays first tries to throw discredit upon Joseph Smith's account of Martin Harris' visit to New York, which is as follows:

The persecution however became so intolerable that I was under the necessity of leaving Manchester, and going with my wife to Susquehaiinah county in the state of Pennsylvania: while preparing to start (being very poor and the persecution so heavy upon us that there was no probability that we would ever be otherwise), in the midst of our afflictions we found a friend in a gentleman by the name of Martin Harris, who came to us and gave me fifty dollars to assist us in our afflictions. Mr. Harris was a resident of Palmyra township Wayne county, in the state of New York, and a farmer of respectability; by this timely aid was I enabled to reach the place of my destination in Pennsylvania, and immediately after my arrival there I commenced copying the characters of the plates: I copied a considerable number of them, and by means of the Urim and Thummim I translated some of them, which I did between the time I arrived at the house of my wife's father in the month of December, and the February following. Sometime in this month of February the aforementioned, Mr. Martin Harris came to our place, got the characters which I had drawn of the plates and started with them to the city of New York. For what took place relative to him and the characters, I refer to his own account of the circumstances as he related them to me after his return which was as follows. "I went, to the city




---




116 REPLY TO D. H. BAYS.



of New York and presented the characters which bad been translated, with the translation thereof to Professor Antbon, a gentleman celebrated for his literary attainments; -- Professor Anthon stated that the translation was correct, more so than any he had before seen translated from the Eayptian. I then showed him those which were not yet translated, and he said that they were Egyptian, Chaldaic, Assyriac, and Arabic, and he said that they were the true characters. He gave me a certificate certifying to the people of Palmyra that they were true characters, and that the translation of such of them as had been translated was also correct. I took the certificate and put it into my pocket, and was just leaving the 'house, when Mr. Anthon called me back, and asked me how the young man found out that there were gold plates in the place where he found them. I answered that an anael of God had revealed it unto him.

"He then said to me, let me see that certificate, I accordingly took it out of my pocket and gave it to him, when he took it and tore it to pieres,.sayiii- that there was no such thing now as ministering of angels, and that if I would bring the plates to him, he would translate them. I informed him that part of the plates were sealed, and that I was forbidden to brina them, he replied 'I cannot read a sealed book.' I left him and went to Dr. Mitchill who sanctioned what Professor Anthon had said respecting both the characters and the translation." -- Times and Seasons, vol. 3, pp. 772, 773.

It will be seen by the above that Martin Harris took "a considerable number" of the characters with him, and "some of them" were translated. He first presented to Professor Anthon those which. were translated, and the Professor declared them to be Egyptian and the translation more correct than any be bad seen. He next presented those not translated, and these were pronounced by the Professor to be "Egyptian, Chaldaic, Assyriac, and Arabic," and to be true characters.

It was after this that the Professor proposed to translate the plates if they were brought to him, and was told that a part of the plates was sealed, and Mr. Harris was forbidden to bring them; and in this connection the Professor said, "I cannot read a sealed book."

We are thus particular in presenting this matter clearly,




---




REPLY TO D. H. BAYS. 117



because of the bungling, confused, and misleading manner in which Elder Bays presents the narrative.

In this connection Elder Bays grossly misrepresents the defenders of the claims of the Book of Mormon and to do so he puts into the mouth of Elder W. H. Kelley words he did not use, as the following quotations will show:

Every writer who has made any attempt to defend the claims of the Book of Mormon on this ground has urged as an argument full of potency, that the learned professor could not decipher the characters submitted to him. Upon this point Elder Wm. H. Kelley says:

"Both he [Prof. Anthon] and Dr. Mitchell were waited upon by Mr. Harris with a copy of the characters, and they examined them, just as affirmed by Mr. Harris, and as predicted in the twenty-ninth chapter of Isaiah, and eleventh verse, would be done, which is the main point in the investigation, and that neither of them was able to decipher them." (Presidency and Priesthood, p. 205.)

Here we have the affirmation of Mr. Kelley, (and he is considered good authority,) that the "characters" were presented to the Professor, and that neither he nor Dr. Mitchell was able to decipher them, and that their failure to do so is "the main point in the investigation." In this declaration Mr. Kelley but repeats the position, and reflects the sentiment of all the leading Minds of the denomination from its rise to the present day. With this view of the case flrmly fixed in the mind, let us recall the witness, Martin Harris, for re-direct examination. - Page 224.

Compare this with what Elder Kelley really did say:

The reader will bear in mind that Professor Anthon made his statement a number of years after he was visited by Mr. Harris. He endeavors to treat lightly and cast discredit upon the claims made concerning the revealment and translation of the book by Mr. Smith (having taken sides with the popular current, not believing in the visitation of angels), but he confesses, nevertheless, that both he and Dr. Mitchell were waited upon by Mr. Harris with a copy of the characters, and that they examined them, just as is affirmed by Mr. Harris, and as is predicted in the twenty-ninth chapter of Isaiah, and the eleventh verse, would be done, which is the main point in this investigation, and that neither of them were able to decipher them. Indeed, there is nothing in the prediction of Isaiah to indicate that the learned to whom the, "words of the book" would be submitted would believe anything in the transaction, but rather the relverse. - Presidency and Priesthood, p. 205.




---




118 REPLY TO D. H. BAYS.



It will be seen by the above that what Elder Kelley said Mr. Anthon had confessed, Elder Bays presents as an affirmation of Elder Kelley. It will also be readily seen by examination of the connection in which the words are used that Elder Kelley did not afflrm that the failure of these learned men to decipher the characters was the main point in the investigation, but that the presentation and examination was the main point in the investigation. Words are too weak to express the contempt we feel for such a course as the above discloses upon the part of Elder Bays.

On pages 226 and 227 Elder Bays continues as follows.

Did it ever occur to you that this document, so much relied upon to support this claim for the Book of Mormon, is actually self-contradictory? And,yet such is the case.

That part of the statement just quoted, says, in substance, that Prof. Anthon could, and in fact did, "read" the words orcharacters submitted to him by Martin Harris, while the latter part of the statement represents Mr. Anthon as saying, "I cannot read a seated book."

If Prof. Anthon really examined the characters and declared them to have been "correctly translated," then it is clear to the most casual observer that he must have been able to decipher the characters in which the "sealed book" was said to have been written.

If by his great learning this distingnisbed professor of languages could translate the characters. in which it is claimed the Book of Mormon was written, then it is absurd in the extreme to urge that Joseph Smith, orany other man, should be divinely inspired in order to their translation.

If Mr. Anthon did not decipher the characters presented to him, then his alleged statement or certificate. that said characters had been correctly translated, is absolutely worthless, and amounts to nothing by way of proving what is claimed for the Book of Mormon.

If he did decipher them ---- which he must have done in order to render the allezed certificate of an y value ....-chen it does not come within the range of Isaiah's prophecy, for he declares that when the "words" were presented, the "learned man" should say, "I cannot read them."

The sophistry of this is so apparent that but little comment is needed. Reading the characters and reading the sealed book were two separate and distinct things, and




---




REPLY TO D. H. BAYS. 119



the words were used in different connections, and under different circumstances. Mr. Bays in order to make his case misquotes Isaiah. The passage does not read: "I cannot read them," but "I cannot; for it is sealed."

Concerning the testimony of Professor Anthom and Mr. Harris, Elder Bays truthfully observes: "It will doubtless be observed that these statements differ materially as to what occurred on that occasion." Then he asks, "Which of these statements are we to believe?" We certainly cannot believe Professor Anthon's. He says:

This paper was in fact a singular scrawl. It consisted of all kinds (if crooked characters disposed in columns, end had evidently been prepared by some person who had before him at the time a book containing various alphabets. Greek and Hebrew letters, crosses and flourishes, Roman letters inverted or placed sideways, were arranged in perpendicular columns, and the whole ended in a rude delineation of a circle divided into various compartments, decked with various strange marks, and evidently copied after the Mexican Calendar given by Humboldt. -- History of Mormonism by E. D. Howe, pp. 271, 272.

An examination of the accompanying photographic cut of the original paper, will show Professor'Anthon to be wrong. These characters are not arranged in perpendicular columns, nor do they end "in a rude delineation of a circle divided into various compartments, decked with various strange marks,"

Mr. Bays cannot deny the genuineness of this cut, as he has himself presented it to several scholars for examination, and, as will be seen, bases his rebuttal largely on their opinions regarding it. Professor Anthon's statement is therefore proven untrue.

Elder Bays here questions whether Martin Harris ever made this statement, and expresses the suspicion that Joseph Smith manufactured the testimony. This has already been refuted. See pages 28, 30 of this book.

On paces 232 and 233 Elder Bays says:




---




120 REPLY TO D. H. BAYS.



I wish again to call attention to the fact that the statement attributed to Martin Harris concerning his interview with Prof. Anthon never saw the light. of day, so far as the public is concerned, till May 2, 1842, fourteen years after the event is said to have taken place; and, it was then made public, not by Martin Hirris,.but by Joseph Smith, the very man, above all others on earth, the most directly interested.

In answer to this we quote from a letter written by W. W. Pbelps (before be was a member of the church) to E. D. Howe, of Painesville, Ohio, from Canandaigua, New York, January 15, 1831, and published in 1840, in "History of Mormonism," by E. D. Howe, page 273:

When th 'e plates were said to have been found, a copy of one or two lines of the characters, were taken by Mr. Harris to Utica, Albany and New York; at New York, ihey were shown to Dr. Mitcheli, and he referred to Professor Anthon who translated and declared them to be the ancient, shorthand Egyptian. So much is true. The family of Smiths is poor, and generally ignorant in common lewrnlng.

This shows that the purported interview was made public as early as January, 1831. Mr. Anthon in his letter of February 17,1834, and published in the same work, also refers to the claim made by Harris concerning the visit of Harris in New York.

After a protracted effort to show that the witnesses to the Book of Mormon might have testified falsely, which we will not occupy space to follow, Elder Bays proceeds to the direct evidence. He represents himself as follows:

Unwilling to trust to the accuracy of a transcript made in the ordinary way, I cut tbt, plate out of a copy of Mr. Kelley's book, and submitted it to a few of the best Egytologists of the present time, with a request for each to pass his professional opinion upon the unique document. Each of the gentlemen addressed returned a prompt answer, neither of them knowing what the other had said; or, to be more accurate, neither linew that anybody else was to answer the questions, and hence there could be no possibility that the statement of one could be influenced by that of another.

In this manner each depended entirely upon his own knowledge of the question to be considered, and was, therefore, entirely free from any bias that might arise from having




---
[facing pg. 120]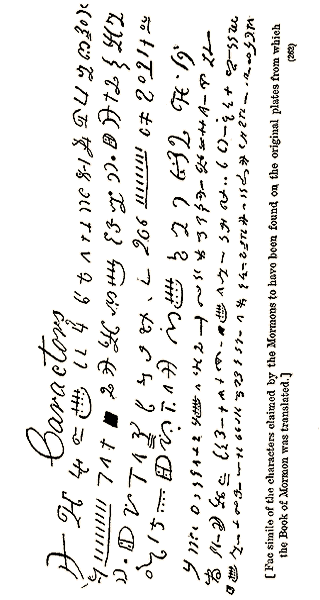 ---
[facing pg. 121]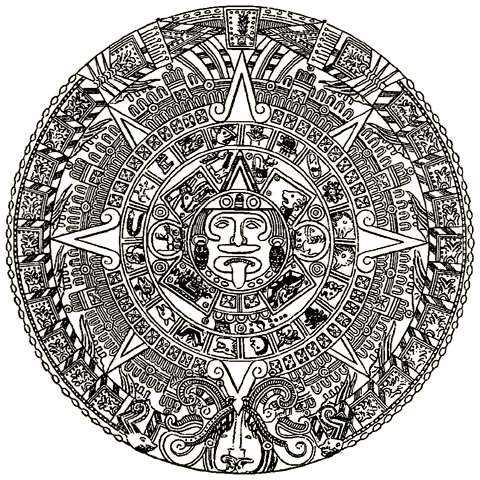 "MEXICAN CALENDAR IN RELIEF ON BASALT."



Photographed from page 276 of "Humboldt's Researches in America."

By comparing this with the accompanying plate, it will be seen that Prof. Anthon.errs when he states that the characters presented to him by Martin Harris were "evidently copied after the Mexican Calendar given by Humboldt."

See pages 119 and 124.






---




REPLY TO D. H. BAYS. 121



previously read the opinions of another, thus securing the independent opinion of some of the finest scholars in the Oriental languages that our country affords.

The accompanying plate, an exact reproduction of Mr. Kelley's photographic copy, will give the reader an opportunity to make. a more extended examination should he desire to do so.

To each of the gentlemen whose testimony is submitted herewith, was addressed a letter of explanation and inquiry, substantially as follows:

"DEAR SIR: I herewith inclose what purports to be a fac-simile of the characters found upon the gold plates from which it is claimed the Book of Mormon was translated. The advocates of Mormonism maintain that these characters are'Egyptian, Chaldaic, Assyrian and Arabic.'

"So far as I am informed, these characters have never bile submitted to scholars of eminence for examination; and as languages named fall within your province, including Egyptology and Archeology; your professional opinion as to their genuineness will be of great value to the general reader@ in

to I this remarkabl ii:ocih, the followling question

y timej either before or since lets, or:@lates of brass? the Egyptian language?

ow that the Pentateuch was ever, written upon such plates of brass?

"4. Is there any proof that the law of Moses, or even the Decologue, was ever written in the Egyptian language?" -- Pages 260-263.

In the first place Mr. Bays misrepresents "the advocates of Mormonism" and misleads the learned gentlemen to whom he writes when he, says: "The advocates of Mormonism maintain that these characters are Egyptian, Chaldaic, Assyrian and Arabic."' We have before shown that no such claim had been made by us. In making this statement Elder Bays also contradicts his own statements as follows:

There can be no question, then, that the language of the plates was Egyptian. Not the slightest intimation that any other language was ever employed in keeping these records, and hence no other letters, SignS or characters could possibly have been used. -- Page 257.




---




122 REPLY TO D. H. BAYS.



Again:

All Mormon authority unites in declaring that the plates of the Book of Mormon were written in Egyptian. -- Page 269.

For the sake of the comparison we will here quote the several answers to the above communication as received by Elder Bays and pliblisbed in his book, and also the communication of Professor Anthon as published by Howe in 1840:

"Rev. D. R. BAYS, Dear Sie: I have submitted your letter and iticlostive i@o our Proressor of Oriental langauages, who is more familiar with the subjects raised by your questions than I am. [To. is a man of large learning in Semitic languages and archeology. The substance of what lie ha's to say is:

"1. The document which you enclose raises a moral, rather than a linguistic problem. A few letters or signs are noticeable svl)ioli correspond more or less closely to the Aramaic, sometimes ctiled Chaldee language; for example, s, h, g, t, 1, b, n. There are no Assyrian characters in it, and the impression made is that the document is fraudulant.

"2. There is no evidence that the Hebrews kept their records upon plates or tablets of brass; but the Assyrians, in the eighth century before Christ, did.

"3. There is no evidence whatever to show that the Pentateuch was ever written on such plates of brass. "Yours Truly,

"James B. ANGELL."

Ann Arbor, Mich, (Italics are mine).-'Pages 263, 264.

"REV. D. H. BAYS, Dear Sir: I am familiar with Egyptian, Chaldaic, Assyrian and Arabic, and have considerable acquaintance with all of the Oriental languages; and I can positively assert that there is not a letter to be found in the facsimile submitted that can be found in the alphabet of any Oriental language, particularly of those you refer to - namely, Egyptian, Chaldaic, Assyrian alid Arabic.

"A careful study of the facsimile shows that they are characters put down at random by an ignorant person - with no resemblance to anything, not even shorthand.

"No record has ever shown that the Hebrews, or any other Eastern nation, kept their records upon plates or tablets of brass, but thousands upon thousands of tablets of baked clay have been broumht to light, antedating two or three thousands years, before the time of Moses, while libraries of these baked clay tablets have been found, like those at Tell el Amara. At the time the Old Testament was written paper made from




---




REPLY TO D. H. BAYS. 123



papyrus was in use, and as documents have been found in Egypt of the time of Moses. written on papyri, it is not unreasonable to suppose that we may find yet portions of the Old Testament.

"The treasures of Egypt and Palestine are only just being brought to light. Remarkable discoveries are yet to be made. -- Pages 264, 265. "Respectfully, CIIAS. ft. S. DAVIS."

"JERUSALEM [Palestine], Dec. 27, 1896.

"REV. D. H. BAYS, Deag- 8i7, and B?-other: Your letter dated Nov. 23rd I have just received. I will try to answer your questions as far as I am able. I believe the plates of the Book of Mormon to be a fraud.

"In the flrst place it is impossible to find in any old inscription, 'Egyptian, Arabic, Chaldaic and Assyrian, characters mixed to-ether. The simple idea of finding Egyptian and Arabic side by side is ridiculous and impossible.

"In the second place, though some signs remitid one of those on the Mesa Inscription, yet none bear a resemblance to Egyptian or Assyrian, aS far as I know there is no evidence that the Hebrews kept records on plates of brass, or ever wrote on such plates. About the prophecy contained in Isa. 29: 1-14, I can venture no opinion, as I am not a Biblical scholar, and only concern myself about Egyptology.

Very truly yours,

"CIIAITLES E. MOLDENKE."

Page 266.

The letter of Professor Anthou is as follows:

New York, Feb. 17, 1834.

Dear Sir -- I received this morning your favor of the 9th instant, and lose no time in malting a reply. The whole story about my having pronounced the Mormoriite inscription to be "reformed Egyptian hieroalyphics" is peq:fectly false. Some years aao, a pl,%in, and apparently simple-hearted farmer, called upon me with a note from Dr. Mitchell of our city, now deceased, requestili.- me to decypher, if possible, a paper, which the farmer would band me, and which Dr. M. confessed he had been unable to understand. Upon examining the paper in question, I soon came to the conclusion that it was all a tricli:, perhaps a lioa,.v. When I asked the person, who brought it, how he obtained the writing, he gave me, as far as I can.now recollect, the following account: A "gold book," consisting of a number of plates of gold, fastened together in the shape of a book by wires of the same metal, had been dug up in the northern part of the state of New York, and along with the book an enormous pair of "gold spectacles"! These spectacles were so large, that, if a person attempted to look through them, his two




---




124 REPLY TO D. H. BAYS.



eyes would have to be turned towards one of the glasses merely, the spectacles in question being altogether too large for the breadth of the human face. Whoever examined the plates through the spectacles, was enabled not only to read them, but fully to uride7-8tand their meaning. All this I aknowledge, however, was confined at that time to a young man, who had the trunk Containing the book and spectacles in his sole possession. This young man was placed behind a curtain, in the garret of a farm house, and, being thus concealed from view, put on the spectacles occasionally, or rather, looked through one of the glasses, decyphered the characters in the book, and, having committed some of them to paper, handed copies from behind the curtain, to those who stood on the outside. Not a word, however, was said about the plates having been decypbered "by the gift of God." Every thing, in this way, was effected by the large pair of spectacles. The farmer added, that he had been requested to contribute a sum of money towards the publication of the "golden book," the contents of which would, as he had been assured, produce an entire change in the world and save it from ruin. So urgent had been these solicitations, that he intended selling his farm and handing over the amount received to those who wished to publish the plates. As a list precautionary step, however, be had resolved to come to New York, and obtain the opinion of the learned about the meaning of the paper which he brought with him, and which had been given him as a part of the contents of the book, although no translation bad been furnished at the time by the young man with the spectacles. On hearing this odd story. I changed my opinion about the pa-per, and, instead of viewi'n,'g it any longer as a hoax upon the learned, I began to regard it as part of a scheme to cheat the farmer of his money, and I communicated my suspicions to him, warning him to beware of rogues. He requested an opinion from me in writing, which of course I declined giving, and be then took his leave carrying the paper with him. This paper was in fact a singular scrawl. It consisted of all kinds of crooned characters disposed in columns, and had evidently been prepared by some person who had before him at the time a book containing various alphabets. Greek and Hebrew letters, crosses and nourishes, Roman letters inverted or placed sideways, were arranged in perpendicular columns, and the whole ended in a rude delineation of a circle divided into various compartments. decked with various strange marks, and evidently copied after the Mexican Calendar given by Humboldt, but copied in such a way as not to betray the source whence it was derived. I am thus particular as to the contents of the paper. inasmuch as I have frequently conversed with my friends on the subject, since the Mormonite excitement began, and well remember that the paper contained




---




REPLY TO D. H. BAYS. 125



any thing else but "Egyptian Hieroglyphics." Some time after, the same farmer paid me a second visit. He brought with him the golden book in print, and offered it to me for sale, I declined purchasing. He then asked permission to leave the book with me for examination. I declined receiving it, although his manner was strangely urgent. I adverted once more to the roguery which had been in my opinion practiced upon him, and asked him what had become of the gold plates. He informed me that they were in a trunk with the large pair of spectacles. I advised him to go to a magistrate and have the trunk examined. He said the "curse of God" would come upon him should he do this. On my pressing him, however, to pursue the course which I bad recommended, he told me that he would open the trunk, if I would take the "curse of God" upon myself. I replied that I would do so with the greatest willingness, and would incur every risk of that nature, provided I could only extricate him from the grasp of rogues. He then left me.

I have thus given you a full statement of all that I know respecting the origin of Mormonism, and must beg you, as a personal favor, to publish this letter immediately, should you find mv name mentioned again by these wretched fanatics.

Yours respectfully, CHS. ANTRON.

E. D. Howe, B8q. Paine8,vilk, Ohio.

History of Mormonism, by E. D. Howe, pp. 270-272.

It may be thought presumptuous to criticise these learned men, but of all productions of mortal man, the productions of scholars ought to stand criticism, and if they will not, no excuse can be made.

Compare the following: (Some of the following italics are mine.)

A few letters or signs are noticeable which co?,,respond more or closely to the Aramaic, sometimes called Chaldee language; for example, s, h, g, t, l, b, n. -- Angell.

I can positively assert that there is not a letter to be found in the facsimile submitted that. c,,tyi be found in the alphabet of any Oriental langauage, ptrticularly of those you refer to namely, Egyptian, Chaldaic, Assyrian and Arabic. A careful study of the facsimile shows that they are characters ptit down at random by an ignorant person with no resemblance to anytaing, not even shorthand. -- Davis.

In the second place, though some 8ignq -remind one of those on the Mesa inscription, yet none bear a resemblance to Egyptian or Assyrian. - Moldenke.




---




126 REPLY TO D. H. BAYS.



Greek and Hebrew letters, crosses tnd flourishes, Roman letters inverted or placed sideways, were arranged in perpendicular columns, etc. -- AnLtion.

There is no evidence that the Hebrews kept their records upon plates or tablets of brass; but the Assyrians, in the eighth Century before Christ, did. -- Angell.

No record has ever shown that the Hebrews, or any other Basteg,n nal?,on, kept their records upon plates or tablets of brass. -- Davis.

This is the contradictory mass that. Mr. Bays relies on as evidence in rebuttal, Mr. Angell finds signs on the facsimile more or less closely resembling Chaldee; Mr. Moldenke feuds signs that remind one of those on the Mesa Inscription and Mr. Antbon finds Greek, Hebrew, and Roman letters; while Mr. Davis finds no resemblance to anything.

Again, Mr. Angell thinks that the Assyrians kept their records on brass; but Mr. Davis says "no record has ever shown that the Hebrews, or any other eastern nation," did. However, Messrs. Antbon, Davis, and Moldenke all agree that there are no Egyptian characters on the facsimile, while Mr. Angell says nothing on this point.

We would not expect linguists to recognize Egyptian characters on the plates readily, as the Book of Mormon declares:

And now behold, we have written this record according to our knowledge in the characters, which are called among us the reformed Egyptian, being handed down and altered by us, according to our manner of speech. And if our plates had been sufficiently large, we should have written in the Hebrew; but the Hebrew hath been altered by us also; and it we could have written in the Hebrew, behold, ye would have had none imperfection in our record. But the Lord knoweth the things which we have written, and also that none other people knoweth our language; and because that none other people knoweth our 12.nguage, therefore he bath prepared means for the interpretation tbereof. -- Page 538, Palmyra edition,

By this it will be seen that the failure of these scholars lo read, and the confusion of their statements, but confirm the statemedt of the book that, "None other people knoweth




---




REPLY TO D. H. BAYS. 127



our language." Yet there are some characters on the plates closely resembling the Egyptian, as anyone can determine by comparing Egyptian characters with the facsimile.

There is competent evidence that the prehistoric Ameri- cans were influenced by Egyptian civilization. When we consider the account given in the Book of Mormon; viz., that though this country was peopled by Jews, yet they were a people acquainted with the customs of Eaypt, the following is quite significant:

No claim has been advanced, we believe, which advocates an actual Egyptian colonization of the new world, but strong arguments have been used to show that the architecture and sculpture of Central America and Mexico have been influenced from Emypt, if i)ot attributable directly Lo Egyptian artisans. These arguments are based on the resemblance between the gigantic pyramids, the sculptured obelisks, and the numerous idols of these prehistoric countries and those of Egypt. It requires no practiced eye to trace a resemblance in general features, thoo-h it must be said that the details of American architecture and sculpture, are peculiarly original in design. The principal advocate of the theory, Delafleld, has furnished many comparisons, but we think no argument has been presented sufficiently supported by facts to prove that American architecture and sculpture bad any other than an indigenous origin. -- Short, The North Americans of Antiquity, p. 147.

Just what might be expected from the Book of Mormon theory. Their architecture and sculpture were not of Egyptian origin but bearing Egyptian resemblance.

That the language of ancient Americans also bore a resemblance to the Egyptian is well established. The following is evidence in point:

It is scarcely necessary for us to remark that the seeming analogies between the Maya (Central American) sculpture and that of Egypt have often been noted. Juarros. in speaking of Palenque art says, "The hieroglyphics, symbols and emblems which have been discovered In the temples, bear so strong a resemblance to those of the Egyptians, as to encourage the supposition that a colony of that nation may have founded the city of Palengue or Culhuacan." Giordan found, as he thought, the most striking analogies between the Central,




---




128 REPLY TO D. H. BAYS.



American remains. as well as those of Mexico, and those of the Egyptians. The idols and monuments he considers of the same form in both countries, while the hieroglyphics of Palenque do not differ from those of ancient Thebes. Senor Melgar, in a communication to the Mexican Geographical Society, has called attention to the frequent occurrence of the (T) tau at Palenque, and has more studiously Advocated the early relationship of the Palenqueans to Egypt than any other reliable writer. He cites Dupaix's Third Expedition, page 77 and plates 26 and 27, where in the first figure is a goddess with a necklace supporting a tau like medallion to which the explorer adds the remark that such is "the symbol in Egypt of reproduction or abundance." In the second plate he finds an altar dedicated expressly. to the tau. He considers that the on] tus of this, the symbol of the active principle in nature, prevailed in Mexico in many places. Senor Melgar also refers to two idols found south of the city of Mexico, "iin one of which two symbols were united, namely, the Cosmogonle egg, symbolical of creation, and two faces, symbols of the generative principle. The other s ymbolized creation in the bursting forth of an egg. These symbols are not found in the Aztec mythology, but belong to the Indian, Egyptian, Greeli@, Persian, Japanese and other cosmogunies." This, the Senor considers proof that these peoples were the primitive colonists of that region, and seeks to, sustain his views by references to the Dharma Sastra of Manou and the Zend Avesta. The reader has no doubt been surprised at the frequent occurrence of the T-shaped niches in the Palenque palace, and has observed the same symbol employed on some of the hieroglyphics of the Tablet of the Cross. The Egyptian tau, one of the members of the Crux an8ata, is cert&idly present at Palenque, but whether it was derived from any one of the Mediterranean peoples who employed it, cannot be ascertained. Among the Egyptians it signified "life," as is shown by the best Egyptologists. -- The North Americans of Antiquity, pp. 415-417.

Resemblances have been found between the calendar systems of Egypt and America, based chiefly upon the length and division of the year, and the number of interealary and complementary days. -- Bancroft, Native Races of the Pacific States, vol. 5, p. 62.

But at Lexington [Kentucky], the traits are too notorious to. allow them to be other than pure Egyptian, in full possession of the strongest complexion of their national character, that of embalming, which was connected with their religion. -- Priest's American Antiquities. p. 119.

One of the most interesting sources of comparison between Mexico, Peru, and Egypt, is to be found in an investigation of their hieroglyphic system. Each of these countries had a




---




REPLY TO D. H. BAYS. 129



peculiar method of recording events by means of hieroglyphic signs, sculptiirin- them on monuments and buildings, and portraying them on papyrus and mal-uey. - Delafield's American Antiquities, p. 42.

It is the opinion of the author that farther investigations and discoveries in deciphering Mexican hieroglyphic paintings will exhibit a close analogy to the Egyptian in the use of two scriptural systems: the one for roonumetitll inscription, the other for the ordinary purposes of record and tr,%nsmission of information. We find the three species of hieroglyphics common to Mexico and Egypt. -- Ibid., p. 46.

The ancient Maya hieratic alphabet, discovered by me, is as near @ilike to the ancient hieratic alphabet of the Egyptians as two alphabets can possibly be, forcing upon us the conclusion that the Mayas and the Egyptians either learned the art of writing from the stme masters, or that the Egyptians learned it from the Mayas. -- Le Plongeon, Sacred Mysteries, p. 113.

In tracing, then, the ancestry of the )iexicans and Peruvians, by analogy in their hieroglyphic system, where shall we take them but to Eaypt and to southern Asia? - Delafield's American Antiquities, p. 47.

Of a comparison of the "days of the Mexican calendar" with the "lunar houses of the ilindoos"; also with referelice to "the analogy between the zodiac of the Mexicans and that of the Maxitchou. Tartars," Delafield says:

These quotations we consider very positive evidence of an early identity between the aboriginal race of America and the southern Asiatic and Egyptian family. - American Antiquities, p. 51.

As to the Mexicans, it would be superfluous to examine how they attained this knowledge. Such a problem would not be soon solved; but the fact of the intercalation Of thirteen days every cycle, that is, the use of a year of three hundred and sixty-five days and a quarter, is a proof that it was either borrowed from the Egyptians, or that they had a common origin. -- Delafleld's American Antiquities, p. 53.

Much more might be adduced upon these points but space prevents.

The question as to whether the prehistoric Americans were of Jewish origin has been discussed extensively, and authorities differ upon it. On this Mr. Bancroft says:

The theory that the Americans are of Jewish descent has been discussed more minutely and at greater length than any




---




130 REPLY TO D. H. BAYS.



other. Its advocates, or at least those of them who have made original researches, are comparatively few; but the extent of their investigations and the multitude of parallelisms they adduce in support of their hypothesis, exceed by far anything we have yet encountered. -- Native Races, vol. 5, pp. 77, 78.

Mr. A. A. Bancroft, father of the historian, describes a slab found in Ohio as follows:

About eight miles southeast of Newark there was formerly a large mound composed of masses of free-stone, which had been brought from some distance and thrown into a heap without much placing or care. In early days, stone being scarce in that region, the settlers carried away the mound piece by piece to use for building purposes, so that in a few years there was little more than a, large flattened heap of rubbish remaining. Some fifteen years ago, the county surveyor (I have forgotten his name), who had for some time been searching ancient works, turned his attention to this particular pile. He employed a number of men and at once proceeded to open it. Before long he was rewarded by flnding in the center and near the surface a bed of the tougb clay generally known as pipe-clay, which must have been brought from a distance of some twelve miles. Imbedded in the clay was a coffin, dug out of a burr-oak log, and in a pretty good state of preservation. In the coffin was a skeleton, with quite a number of stone ornaments and emblems, and gome open brass rings, suitable for bracelets or anklets. These being removed, they dug down deeper, and soon discovered a stone dressed to an oblong shape, about eighteen inches long and'twelve wide, which proved to be a casket, neatly fitted and completely watertight, containing a slab of stone of hard and fine quality, an inch and a half thick, eight inches Ion,&, four inches and a half wide at one end, and tapering to three inches at the other. Upon the face of the slab was the figure of a man, apparently a priest, with a long flowing beard, and a robe reaching to his feet. Over his head was a curved line of characters, and upon the edges and back of the stone were closely and neatly carved letters. The slab, which I saw myself, was shown to the episcopalian clergyman of Newark, and he pronounced the writing to be the ten Commandments in ancient Hebrew. -- Native Races, vol. 5, pp. 94, 95.

Mr. G. R., Lederer, a converted Jew and editor of the Israelite Indeed, wrote in May, 1861, as follows:

We suppose that many, if not most of our readers have seen, in religious as well as secular papers, the accounts of some relics which were found a few months ago in a mound near




---




REPLY TO D. H. BAYS. 131



Newark, Ohio. These relics consist of stones, in strange shapes, bearing Hebrew inscriptions, which makes the case particularly interesting to me, as a Hebrew. I have read, therefore, with great interest, all that has been published concerning them, and studied the opinions of different men of science and learning, who have expressed themselves in public; but I desired to see the objects themselves, to put my fln.-er on these relics, which bear inscriptions of the holy laiiauaae, a language which once was written with the finger of God upon tables of stone; a language spoken and written by the prophets of Israel, who predicted the main features, not onlv of the history of Israel. but also of the world at large. It is one of the peculiar and national characteristics of the Jews, to feel a sacred awe for that languaae, and even for "the square characters" in which it is written, so that every written or printed Hebrew page is called "Shemos," by which the people mean to say, a paper on which holy names are printed or written. A pious Jew would never use any Hebrew book or paper for any secular purpose whatever, and carefully picl(s up every bit and burns it. Being now, by the grace of God, an "Israelite Indeed," believing in Him concerning whom Moses and the prophets did write, 'that sacred language has increased in its charming influence upon my mind; this may explain my anxiety to see those relics with the Hebrew inscriptions, without, however, entertaining the least hope of ever having that wish realized. This time, however, I was gladly disappointed; for, in calling a few days ago on my friend, Mr. Theodore Dwight, (the Recording Secretary of the "American Ethnological Society," and my associate in the editorship of this Magazine,) my eyes met with the very objects of my desire. That I examined these antiquities carefully, none of our readers will, I think, entertain any doubt. I recognized all the letters except one, (the ayin,) though the forms of many of them are different from those now in use. - This, however, is not the case with the stone found first, (viz., in July, 1860,) which has the form of an ancient jar, bearing Hebrew inscriptions on its four: sides, which are in perfectly such characters as those generally in use now. I cannot form any opinion concerning the use or meaning of this, which was found first, as @be inscriptions do not lead to any su-gestioiis whatever. They are as follows: 1. "Debar Jehovah," (meanina the word of Jehovah.) 2. "Kodesh Kodeshim," (The Holy of Holies.) 3. "Thorath Jehovah," (The Law of Jehovah,) and 4. "Melek Aretz," (King of the Earth.) -- Israelite Indeed, May, 1861, pp. 264, 265.

Much more evidence of this character might be presented, but we will close -with an extract from the




---




132 REPLY TO D. H. BAYS.



writings of Mr. George Catlin, giving reasons for believing that the AmericarL Indians were descendants from the Jews:

"I believe, with many others, that the North Americaib Indians are a mixed people-that they have Jewish blood in their veins, though I would not assert, as some have undertaken to prove, 'that they are Jews,' or that they are 'the ten lost tribes of Israel.' From the character and conformation of their heads, I am compelled to look upon them as an amalgam race; but still savages; and from manyof their customs, which seem to me to be peculiarly Jewish, as well as from the character,of their beads, I am forced to believe that some part of those ancient tribes, who have been dispersed by Christians in @o mani, ways, and in so many different eras, have found their way to this country, where they have entered amon-st t4e native stock.... I am induced to believe thus from the very many customs which I have witnessed among them, that appear tb be decidedly Jewish, and many of them peculiarly so, that it would seem almost impossible, or at all events, exceedingly improbable, that two peoples in a state of nature should have hit UPOD them, and practiced them exactly alike.... The first and most striking fact amongst the North American Indians that refers us to the Jews, is that of their worshipping,in all parts, the Great Spirit, or Jehovah, as the Hebrews were ordered to do by divine precept, instead of plurality of Gods, as ancient Pagans and Heathens did, and the idols of their own formations...

First, "The Jews had their sztnc turn sanctorums, and so it may be said the Indians have, in their council or medicine houses, which are always held as sacred places." Second, "As the Jews had, they have their High Priests tnd their Prophets." Third, "Amongst the Indians, as amongst the ancient Hebrews, the women are not allowed to worship with the men, and in all cases also, they eat separately." Fourth, "The Indians, everywhere, believe that they are the favorite people of the Great Spirit, and they certainly are, lil



---




REPLY TO D. H. BAYS. 133



themselves during the lunar influences, is exactly consonant to the Mosaic Law." Tenth, "After this season of separation, purification in running water, and anointing, precisely in accordance with the Jewish command, is required before she can enter the family lodge." Eleventh. "Many of them have a feast closely resembling the annual feast of the Jewish Passover, and amongst others, an occasion much like the Israelitish feast of the Tabernacles, which lasted eight days, (when history tells us they carried willow boughs, tnd fasted several days and nights,) making sacrifices of the first-fruits and best of everything, closely resembling the sin offering and peace offering of the Hebrews. (See vol. 1, pp. 159- 170, of Religious Ceremonies of the Mandans.)" Twelfth,

"Amongst the list of their customs, however, we meet a number which had their origin, it would seem, in the Jewish ceremonial code, and which are so very peculiar in their forms, that it would seem quite improbable, and almost impossible, that two different peoples shotild ever have hit upon them alike, without some knowledge of each other. These, I consider, go farther than anything else as evidence, and carry in my mind conclusive proof that these people are tinctured with Jewish blood." -- Catlin's North American Indians, vol. 2, pp. 231-234, as copied by Elder Mark H. Forscutt.

Here is evidence quite conclusive that our predecessors in America understood something of both Hebrew and Egyptian learning, and is in perfect harmony with the statement of Nephl:

I make a record in the language of my father, which consists of the learning of the Jews and the language of the Egyptians. -- Book of 'Mormon, p. 5.

Mr. Davis' assertion that the characters do not even resemble shorthand is simply ridiculous. Every principal system of shorthand in use in England or America is derived from Isaac Pitman's, and uses the same general characters. His system was based upon the complete circle, with straight, horizontal, perpendicular, and intermediate angles - struck through. So that every part of the circle and every line is utilized. One can scarcely make a stroke of the pen without imitating some character of shorthand. Anyone who is acquainted with shorthand will find by examination of the facsimile, not only characters




---




134 REPLY TO D. H. BAYS.



resembling phonographic words, but be will find phrases as well.

Mr. Moldenke has placed himself in an embarrassing situation if Mr. Bays has quoted him correctly, by writing another letter in which be contradicts his position in this letter in one important particular as the following letter will show:

MOUNT VERNON, JanuaTy 13, 1898.

MR. FRANK M. SHEEHEY,

Dear Sir:- Your inquirv has not been answered by me sooner on account of stress of work. I had occasion to answer a similar inquiry to yours while in Jerusalem last year. While some of the characters bear a very slight resemblance to Old Hebrew and Egyptian letters, still the whole page shows plainly the work of the forger and ignoramus. In fact sentences lettered in Arabic, Hebrew, Egyptia,n promiscuously would be sheer nonsense. All the characters of this "Book of Mormon" are not even a clever invention but a barefaced and idiotic scribble. Returning to you the printed sheet I remain

Yours respectfully,

CHARLES E. MOLDENKE.

To Elder Bays be says: "None bear a resemblance to. Egyptian," etc.; while to Elder Sheehy who presented him a copy of the same be says- "Some of the characters bear a very slight resemblance to Old Hebrew and Egyptian letters." If Mr. Moldenke's opinion is of any value it will serve to corroborate the statement previously quoted from the Book of Mormon that they wrote in both Egyptian and Hebrew, but had changed both, which would account for the "very slight resemblance," and yet for his inability to read them. And of course anything that Mr. Moldenke cannot read is to him an "Idiotic scribble."

Messrs. Angell and Davis are very positive that the Hebrews never kept their records on brass. Mr. Moldenke very properly qualifies the statement withthe words,"as far as I know." It would have been far safer if the other two gentlemen had made some such qualifications but like many other men blessed with a little learning, they assume that what they do not know does not exist.




---




REPLY TO D. H. BAYS. 135



The occasion for this issue being raised is that the Book of Mormon claims that Lehi and family brought with them to this land plates of brass containing the genealogies of their forefathers, and Mr. Bays seeks to prove that the Hebrews never wrote on brass, in order to throw discredit on this account. He succeeds in getting these two men to say what be wanted them to say. To these he also adds brief quotations from letters he claims to have received from President Harper, of Chicago University, and Professor Price, of the same institution.

Notwithstanding these opinions of these learned gentlemen, there is evidence that the Hebrews wrote records on brass, as the following quotations will show:

The materials generally used by the ancients for their boolks, were liable to be easi)3, destroyed by the damp, when hidden in the earth; and in times of way, devastation, aiid rapacit3,, it wag necessary to bury in the earth whatever they wished to preserve from the attacks offraud addviolence. Withthisview,Jevemiah ordered the writings, which he delivered to Baruch, to be put in an earthen vessel, Jer. 32. In the same manner, the ancient Egyptians made use of earthen urns, or pots of a proper shape, for containing Whatever they wanted to inter in the earth, and which, without such care, would have been soon destroyed. We need not wonder then, that the prophet Jeremiah should think it necessary to inclose those writings in an earthen pot, which were to be buried in Judea. in some place where they might be found without much difficulty on the return of the Jews from captivity. Accordingly, two different writings, or small rolls of writing, called books in the original Hebrew, were designed to be inclosed in such an earthen vessel; but commentators have been much embarrassed in giving any probable account of the necessity of two writings, one sealed, the other open; or, as the passage has been commonly understood, the,, one sealed up, the other left open for any one to read, more especially, as both were to be alike buried in the earth and concealed from every eye, and both were to be examined at the return from the captivity. - Encyclopedia of Religious Knowledge, by Rev. B. B. Edwards, 1850, pp. 255, 266.

By the above we see that the claim made that the record of the Nephites was buried in earth in a time of war, was in harmony with Jewish custom, and also that the claim




---




136 REPLY TO D. H. BAYS.



that a part of the record was sealed and a part unsealed was in harmony with custom. This same authority continues as follows:

If the ancient books were large, they were formed of a number of skins, of a number of pieces of linen and cotton cloth, or of papyrus, or parchment, connected together. The leaves were rarely written over on both sides, Ezek. 2:9. Zech. 5: 1. Books, when written upon very flexible materials, were, as stated above, rolled round a stick; and, if they were very long, round two, from the two extremities. The reader unrolled the book to the place which he wanted, and rolled it up again, when he had read it, Ltike 4:17-20; whence the name magelze, a volume, or thing rolled up, Psalm 40; 7. Isaiah 34:4. Ezek. 2, 9. 2 Kings 19:14. Ezra 6:2. The leaves thus rolled round the stick, which has been mentioned, and bound with a string, could be easily sealed, Isaiah 29: 11. Dan. 12:4. Rev. 5: 1. 6: 7. Those books which were inscribed on tablets of wood, lead, brass, or ivory, were connected together by rings at the back, through which a rod was passed to carry them by. The orientals,,tppear to have taken pleasure in giving tropical or enigmatical titles to their books. The titles prefixed to the fifty-sixth, sixtieth, and eightieth psalms appear to be of this description. And there can be no doubt that David's elegy upon Saul and Jonathan,'2 Sam. 1: 18, is called in Hebrew the bow, in conformity with this peculiarity of taste. -- Ibid., p. 257.

In this. we discover two more points in harmony with the account of the Book of Mormon:

1. Metallic plates,were fastened togeti.,er with rings at the back, just as the plates of the Book of Mormon were said to have been fastened.

2. Books were inscribed on tablets of different substances including bg-ass, the very material brought into question by Elder Bays and his witnesses.

In his very popular work published in 1823, entitled, "Introduction to the Critical Study and Kizowledge of the Holy Scriptures," in footnote on page 47, volume 2, Thomas H. Horne, M. A., while discussing Hebrew manuscripts, stated as follows:

See Mr. Thomas Yeates's "Collation of an Indian copy of the Pentateuch, with preliminavy remarks, containing an exact description of the manuscript, and a notice of some




---




REPLY TO D. H. BAYS. 137



others, Hebrew and Syriac, collected by the Rev. C. Buchanan, D. D. in the year 1806, and now deposited in the Public Library, Cambridae. Also a collation and description of a manuscript roll of Lhe Book of Esther, and the Me,-illah of Ahasuerus, from the Hebrew copy, originally extatit in brazen tablets at Goa; with an English Translation." pp. 2, 3, 6, 7. Cambridge, 1812.

Here we have books written in Hebrew on brazen tablets, a copy of which is now in the public library, Cambridge.

The "Union Bible Dictionary" published by the "American Sunday School Union," 1842, under the article Book, states,

Book. (Ex. 17:14.) What we call books were unknown to the ancient Jews, at least in their present convenient form. Letters were engraved on stone, brick, metal, (as lead and copper,) or wood, and also on cloth and skins, and at a later period on parchment. (2 Tim. 4: 18.) Tablets of lead and brass or copper, of great antiquity, have been discovered in modern times.

A summary of Biblical Antiquities by J. W. Nivens, D. D., published by same firm as the dictionary, says:

Some refer the origin of writing to the time of Moses; others, to that of Abraham; while a still different opinion throws it back to the age of Adam himself.

It was long, however, before the art came to be used with anything like that convenience and else which are now known. The materials and instruments with which it was performed, were, in comparison with our peti, ink and paper, extremely rude and unwieldy. One of the earliest methods was to out out the letters on a tablet of stone. Another, was to trace them on unbaked tiles, or bricks, which were afterwards thoroughly burned with fire. Tablets (that is, small, level surfaces or plates) 6( lead or brass were sometimes employed. When the writing was wanted to be most durable, the last was chosen. Tablets of wood were more convenient. Such was the writing table which Zacharias used. -- Pages 158, 159.

Brass, then, was used where writings were desired to be most durable. Genealogies are just what they would most wish to preserve, and they would be likely to write them on brass. This array of evidence will show that Messrs. Angell, Davis, Harper, and Pried were too hasty and too




---




138 REPLY TO D. H. BAYS.



positive, and should have modestly said with Mr. Moldenke, "As far as I know," etc.

It will be observed that Professor Antbon admits that the "singular scrawl" was so well executed as to make it apparent that the person writing it "bad before him at the time a book, containing various alphabets," This was itself remarkable, for a person as unlearned and unskillful as Joseph Smith is reported to have been; and so clever was the imitation, according to Professor Antboii, that Dr. Mitchill did not detect the "hoax" or "fraud," The plain, unvarnished statements of Joseph Smith regarding his experience are more reasonable and consistent than the illogical and conflicting theories resorted to to set aside his testimony.

The theory of Professor Anthon is hardly a tenable one. It is this, that a rogue had undertaken to deceive a simple farmer by representing that he had found gold plates containing ancient and valuable records, which if translated would save the world from destruction, and all this, for the purpose of getting money from the simple farmer. Then this rogue who was such a clever imitator as ta deceive Dr. Mitchill placed the very means of detection in the hands of the farmer by sending him with the fraudulent characters to linguists. That would have been the last thing that a rogue would have done, amd the very fact that Joseph Smith sent Harris there is strong preumptive evidence that Joseph Smith was sincere in the belief that the plates in his possession were genuine.

These learned witnesses of Mr. Bays are quite positive that the Hebrews never wrote in the Egyptian language.

It may be that no instance of the kind is known to them; but it is not reasonable to suppose they were in captivity in Egypt for over four hundred years, and never acquired the art of writing the language. Considering their long sojourn in Egypt, the claim of Nephi as recorded in the




---




REPLY TO D. H. BAYS. 139



Book of Mormon, "I make a record in the language of my father, which consists of the learning of the Jews and the language of the EgyptianS," is not unreasonable. If true that no instance of the Jews writidg in the Egyptian language is known to the scholarship of the time, and the Book of Mormon was a fraud from its inception, the perpetrators of the fraud would have carefully avoided making a statement such as the one quoted from Nephi above.

When the book makes a claim for which there is no direct proof, and yet the claim is in perfect accord with. what might reasonably be expected, it is strong presumptive evidence that fraud was not attempted. We have already shown that these scholarly men use language that is too positive, and that when they say a thing is not so they only mean to say that they do not know that it is so. A moment's reflection will convince anyone that when these scholars say they did not write on brass, they did not write the Egyptian, language, they are saying something they are not authorized to say. They do not, they cannot know. Had they said, We have no knowledge that such was the case, they probably would have told them absolute truth. The reader will pardon us if werelatea little incident that occurred a few years ago in the Indian Territory, as it will illustrate our point. A minister had delivered a discourse in which he strongly urged that the Holy Spirit in its inspirational and wonder-working power was not edjoyed in this age. He was approached by an old colored man when the following conversation took place:

"Massa, you said something that you oughtn't to have said.

"What was that, uncle?"

"You said there wasn't any Holy Ghost in our time."

"Well, what ought I to have said?"




---




140 REPLY TO D. H. BAYS.



"You ought to have said, Not that you knows of."

It appears to us that these eminent professors would have acted the wiser part, if, according to the old gentleman's logic, they had answered Elder Bays by saying, "Not that we knows of." To say a thing never happened is to say we know everything that did happen.

Elder Bays closes with the following:

The question now stands thus:

THE TFSTIMONY OF THREE GltriAT SCHOLA@RS,

THE TESTIMONY OF THE THREE WITliESSES.

Reader, in the light of all the facts, whose word will you take in this case? The whole question may be summed up in a single proposition. If Mormonism is true, the plates must have been written in Egyptian. The plates were not written in Egyptian. Therefore Mormonism is not true. And if Mormonism is not true, then the three witnesses were deceivers, Joseph Smith was an 4mpostor, and the Mormon Church a fraud. There is no possible means of escape from this conclusion. "Choose ye this day whom ye will serve." -- Pages 275, 276.

No, Elder Bays, the case stands tlaus: THE TESTIMONY OF THREE GREAT SCHOLAILS that they do not know,

VS.

THE TESTIMONY OP THREE WITNESSES that they do know.

In concluding this chapter we present the testimony of the three witnesses, recommending their testimony to careful and prayerful consideration:

Be it known unto all nations, kindreds, tongues, and people, unto whom this work shall come, that we, through the grace of God the Father, and our Lord Jesus Christ, have seen the plates which contain this record, which is a record of the people of Nepbi, and also of the Lamtnites, his brethren, and also of the people of Jired, which came from the tower of which hath been spoken; and we also know that they have been translated by the gift and power of God, for his voice hath declared it unto us; wherefore we know of a surety, that the work is true. And we also testify that we have seen the engravings which are upon the plates; and they have been




---




REPLY TO D. H. BAYS. 141



shewn unto us by the power of God, and not of man. And we declare with words of soberness, that an Angel of God came down from heaven, and he brought and laid before our eyes, that we beheld and saw the plates, and the engravings thereon; and we know that it is by the grace of God the Father, and our Lord Jesus Christ, that we beheld and bear record thtt these things are true; and it is marvelous in our eyes: Nevertheless, the voice of the Lord commanded us that we should bear record of it; wherefore, to be obedient unto the commandments of God, we bear testimony of these things.-And we know that if we tre faithful in Christ, we shall rid our garments of the blood of all men, and be found spotless before the judgment seat of Christ, and shall dwell with him eternally in the heavens. And the honor be to the Father, and to the Son, and to the Holy Ghost, which is one God. Amen.

OLIVER OOWDERY,
DAVID WHITMER,
MARTIN HARRIS.

In connection with this testimony, consider that these men had no promise of wealth or praise, and yet they bore the testimony fearlessly, sending it to the world with an unpopular publication in the hands of a persecuted and despised man. They adhered to that testimony through the most adverse circumstances during life, and each died with the testimony upon his lips. Elder Bays and others may hurl unsavory epithets at the memory of these men, but when they state that they or any one of them ever wavered in his testimony, they, state that for which they have no proof. In this connection also consider the following testimony of eight witnesses, of whose fidelity and faithfulness all can be said that we have said of the three:

Be it known unto all nations, kindreds, tongues, and people, unto whom this work shall come, that Joseph Smith, Jr. the Author and Proprietor of this work, has shewn unto us the plates of which hath been spoken, which had the appearance of gold; and as many of the leaves as the said Smith lits translated, we did handle with our hinds; and we also saw the engravings thereon, all of which has the appearance of ancient work, and of curious workmanship. And this we bear record, with words of soberness. that the said Smith has shewn unto us, for we have seen and hefted, and know of a surety, that the said Smith has got the plates of which we have spoken. And




---




142 REPLY TO D. H. BAYS.



we give our names unto the world, to witness unto the world that whioh we have seen: and we lie not, God bearing witness of it.

CHRISTIAN WAITMER,
JACOB WHITMER,
PETER WHITmER, Jr.
JOHN WHITMER,
HIRAM PAGE,
JOSEPH SMITH, Sen.
HYRUM SMITH,
SAMUEL H. SMITH.